In Never Say Never by Aimee Duffy, Sander Chase was once a member of a successful boyband that is now reforming. The problem now is that Sander's left the band because his best friend and lead singer was having an affair with his fiancée. Not only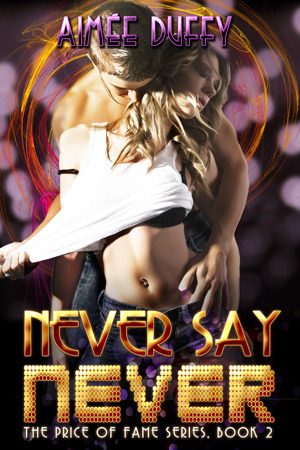 that, he also receives an invitation to their engagement party. He needs to prove to everyone that he is over it and her, but for that he would need to go and have a date. Except that he has no time for relationships and he has trust issues now.
Chloe Butler was a budding makeup artist in Hollywood, but now that she has returned to London she has taken a job as a barista. She too is suffering from a broken heart from a Hollywood heartthrob. And to make things more complicated, she is also the main caregiver of her mother, who is suffering from dementia.
Sander visits the café where Chloe works regularly, and as far he knows she could be perfect for the role of his fake date. But from here things will get interesting. He will offer her his contact to get her a high paying makeup artist job in London if she will help him.
The chemistry between Chloe and Sander is great and even though they started this fake relationship out of necessity, now they find themselves almost unable to keep their hands of each other whenever they are alone. Both of them will have a hard time keeping their real emotions in check in order to keep everything thing as they planned.
For a fun, sweet and hot read, don't miss Never Say Never by Aimee Duffy.
Book Info:

April 15th 2013 by Beachwalk Press, Inc.
When pretend turns to desire, heartbreak is unavoidable.
Sander Chase needs a date for his ex-fiancée's engagement party, but he doesn't have time for a woman in his life. Between working on the TV show Do You Have What It Takes? and his band reforming, he's too busy for a relationship. What he needs is a pretend girlfriend. He thinks he may have found the perfect woman for the job, and the bribe he offers means she's sure to accept.
After losing her job in the film industry, breaking up with her movie star boyfriend, and finding out her mum has dementia, Chloe Butler returned to the UK determined to put her life back together. The last thing she needs is to parade around London on the arm of a celebrity, and after the heartbreak caused by her ex, she swore she'd never again date a star. But when Sander offers her a chance at her dream job, it's not something she can turn down.
As Chloe gets to know Sander she learns he's nothing like her scumbag ex. But she struggles to fight her attraction to him, knowing their relationship is only for show and their separation date is closing in fast.
Ignoring the insane chemistry between them should be easy for Sander, especially since he carries a secret that means there can be no future for them, but the more time he spends with Chloe, the harder it is to keep his hands to himself.
Content Warning: contains more denial than you'll find in a courtroom, more sexual tension than most people could handle, and explosive sex that some readers may find long overdue.