In Nome-o Seeks Juliet (Odds-Are-Good #2) by Katy Regnery, Juliet Sanderson is close to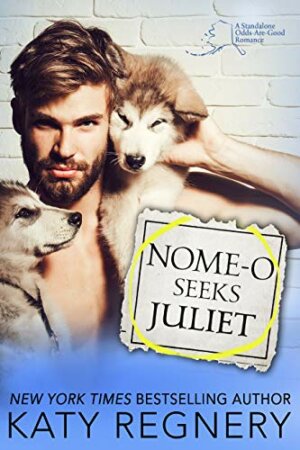 graduating from the University of Minnesota with a degree in veterinary medicine. But her fellowship is in jeopardy when the man, a sled-dog musher, she was going to study is too sick to race. Juliet's only other option for writing her paper on the bond and work that goes into the relationship between man and dogs seems silly but it's worth a shot. So she heads to Nome, Alaska after responding to an ad in the Odds Are Good paper to meet the man who needs a (female) partner to race in the Qimmiq. And Cody Garrison is willing to train even a novice like Juliet. Everything gets all befuddled when they meet, though. Her attraction to him is unexpected. As is the fact that he is a disable veteran. But Cody's courage and kindness have Juliet falling for him in no time at all. And praying that she can make his dream of finishing the race come true.
'I want to be the woman who lets him know that he's beautiful…that *all of him*…is beautiful.'
Cody's hopes of finishing the Qimmiq so he can qualify for the Iditarod rests on Juliet's shoulders. Not that he'd tell her that. As a former Marine who came home disabled and with no direction in life, his dogs–all nineteen of them–have become Cody's world. To have Juliet, a vet student, no less, fall for his dogs, showing them patience and compassion means everything. The fact that she shows him the same? He never would have expected it in a million years. As much as it almost scares Cody to admit it, he's growing accustomed to having Juliet in his home, helping him train and care for his team. With so much riding on their completion of the race, he knows they shouldn't complicate things further with getting their emotions tangled up in it. But how can Cody not take a chance with the woman who has changed his life in so many wonderful ways?
'My life may not have been full, but it was good enough for me.
But now? After having her in my arms last night?
How can anything else compare?'
Kate Regnery's Odds-Are-Good series is just getting better with each new couple we meet. A wounded warrior and a compassionate heroine with an old soul completely stole my heart here–as did the nineteen (!!) gorgeous dogs their adventure centered around.
'She's a good person who loves my dogs, and has tried hard, after an initial fail, to show me that she accepts me exactly for who and what I am. She's probably one in a million…'
There was so much to love about Nome-o Seeks Juliet. And it actually surprised me with the emotional depth, making this less of a romantic comedy and more of a straight up contemporary romance. Kate Regnery still added touches of humor of course, but I really have to say that the way she was able to draw me into a scene, particularly any with our hero Cody, a disabled Marine–wow. My heart went out to him immediately and he knocked me off my feet with how genuine he was. As well as with how lonely and down on himself Cody was at times. But that's where our heroine Juliet came into the mix.
There was about a ten year age difference between Cody and Juliet (he was around 34, she was around 24) but I'll be honest: it didn't matter to me. They both (mostly) behaved as adults and were a good match in personality and their maturity level. Things started off rough when they met. Really rough. But I thought it was fitting that the dogs were what created a bridge between Juliet and Cody and then helped them form a bond together. And what a sweet couple they became. Their romance was equal parts tender and almost frantic, knowing they had limited time together. Cody ended up being a fantastic guy who had been dealt some very difficult cards in life. Juliet was the balm to his soul. And as much as she healed him and accepted him for who he was, I loved that Cody cheered her on to follow her dreams of becoming a veterinarian, believing in her abilities completely. Sigh…
Fascinating sled-dog racing in Alaska and a passionate romance filled with fireworks and obstacles to overcome made Nome-o Seeks Juliet a fun, utterly heartfelt novel by the one and only Kate Regnery.
Book Info:

Publication: Published November 4th 2019 | Katharine Gilliam Regnery | Odds-Are-Good #2
New York Times bestselling author Katy Regnery returns with the second book in her Odds-Are-Good series!
When a lonely vet(eran) and an ambitious vet(erinarian) work together to win the Qimmiq 200, sparks will fly…
Montana-born veterinary student, Juliet Sanderson, is disappointed when her project on the treatment and care of sled dogs falls through due to the illness of a local musher. In an effort to salvage her study and graduate, she answers the personal ad of Alaskan musher, Cody Garrison, who is desperately seeking a teammate for an upcoming co-ed race, The Qimmiq 200.
Cody Garrison, a retired U.S. Marine, doesn't tell Juliet that he was left permanently disabled during his time in active service, fearing that she wouldn't agree to race with him if she knew. But once she arrives in Alaska, discovering the truth about Cody's past will be inevitable. Will the partnership they've agreed to, and the off-the-charts chemistry between them, be enough to see them through the rigors of training and secure them the win of their lives?
*****
An Odds-Are-Good Standalone Romance