In Not Your Average Joe by Nell Carson,Jennifer is a very busy single mom who is struggling to make ends meet by working in a food processing plant called Brickman Foods.Now her life changes for the second time when she meets her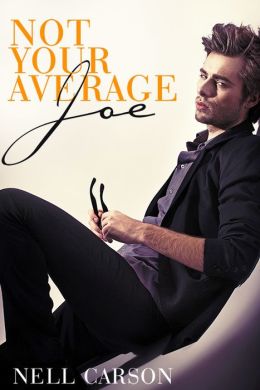 new trainee Jason Baxter-only thats not his real name and she recognizes him straight away as Jared Brickman,son of the CEO of Brickman Foods and the father of her young son,Chris.Jared is undercover for an reality show called Joe Average.
Six years ago,a reckless and irresponsible Jared changed Jennifer's life when he left her pregnant and alone but now he is back with no memory of their past.It is up to Jennifer now to discover Jared once more and decide if she wants to give him a second chance.
The story had a Cinderella theme and Nell Carson has written a good love story.I liked the reality show concept of CEO's working undercover along with the romance,which was sweet and smooth with almost zero conflict.The only problem I had was with the main characters.Jared acted like a jerk when he got Jennifer pregnant and she struggled a lot because of him for six years,therefore some amount of friction or conflict must have been shown when they meet six years later.Jared also claims to not remember Jen,which I found hard to believe after reading the novel .The side characters were more interesting and had more substance than the main characters for me.
Overall Not Your Average Joe is a good,smooth and no conflict romance revolving around the Cinderella theme. Read this if you love fairy tales and tend more towards the romantic than the cynic.
Book Info

Publisher: Escape Publishing – Harlequin Enterprises, Australia Pty Ltd (August 1, 2013)
Reality TV just got real in this Cinderella story about a factory worker and a CEO's son…
Jennifer Wright is finishing a long shift on the assembly line at Brickman Foods when she meets her newest trainee, Jason Baxter — only that's not his name and she knows it. She recognises him instantly as Jared Brickman, internationally renowned playboy and son of the CEO of Brickman Foods, working undercover to film the reality show, Joe Average.
Jared is also the father of Jennifer's son, Chris, although he doesn't know it. The six years since they dated have been momentous for Jennifer, but it's clear when they meet again that Jared doesn't even remember her. Jennifer knew Jared the boy — irresponsible and reckless. Now she has the opportunity to discover Jared the man. She'd like to tell him about his son, but fears his reputation as depicted in celebrity magazines.
Is Jared an infamous heartbreaker, or is he the man she sees now: sweet, shy, and dependable — someone who can be trusted in her son's life…and maybe even her own?