One Hot New York Night by Melanie Milburne is a very enjoyable corporate enemies to lovers themed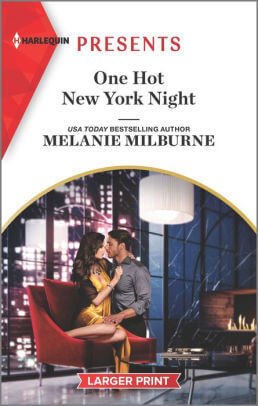 conclusion to the Wanted: A Billionaire miniseries.
Marketing rivals Zoey and Finn are fighting for an account which Zoey is sure she's not a chance to win given how unrivalled Finn is. Zoey and Finn have a love hate relationship which does nothing to dampen the attraction and in true Melanie Milburne style, there's some fantastic opportunities to engage the two; including an accidental swap of laptop bags. Fate binds them together to work on the account culminating in spending a week in Monte Carlo to get each other out of their systems.
It was an easy read and I loved the enemies to lover's theme. Queen of descriptive writing and detail, I loved Melanie's flow, style and extra little touches like Tolstoy. I enjoyed Ivy and Millie being revisited and I enjoyed the quick dialogue and stunning locations. I really liked how Finn was written and loved his beautiful home. I thought their backgrounds were touched on well and helped form the characters and their behaviour. A fantastic conclusion to a wonderful miniseries.
One Hot New York Night is a refreshing read and I thoroughly enjoyed it. I love the title and hope to one day visit New York. Have you ever been there and if so, what do you recommend I should do?
Book Info:

Publication: April 2021 | Harlequin Presents | Wanted: A Billionaire Book #3
Will one night be enough? Find out in this red-hot enemies-to-lovers romance by USA TODAY bestselling author Melanie Milburne.
Sleepless in Manhattan…
With the man she loves to hate!
A sizzling night in New York is the perfect way for advertising executive Zoey Brackenfield to forget her ex. And since it's with Finn O'Connell, business rival and notorious playboy, there's zero chance of heartbreak, or a repeat. Even as she craves his exhilarating touch…
Finn finds their impassioned hours in the city that never sleeps equally unforgettable. Surely as long as they set some ground rules, there's no reason not to indulge again. And again. Until their scorching connection becomes something neither bargained for…
From Harlequin Presents: Escape to exotic locations where passion knows no bounds.
Read all the Wanted: A Billionaire books:
Book 1: One Night on the Virgin's Terms
Book 2: Breaking the Playboy's Rules
Book 3: One Hot New York Night