In One Summer Weekend by Shannon Stacey, Noah Stafford has been lying to his boss for six months, in order to avoid being set up with the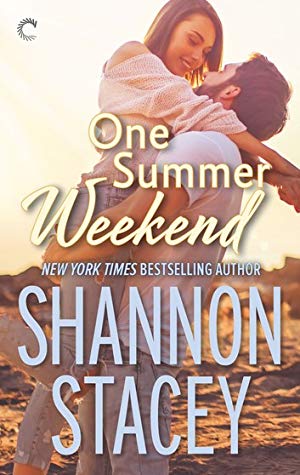 boss's future sister-in-law. The only problem is he told his boss he's dating his best friend, Carly. Now he has to attend a destination wedding and his boss is expecting him to show up with her. Carly wants nothing to do with it, but agrees to help him out for just the weekend. When they arrive and realize that the weekend will change everything, will they be able to work things out or will they lose everything?
Noah and Carly have an easy relationship. It's clear they're very close and are able to pull off the fake relationship with ease. No one suspects that they aren't really a couple. Even when they hook up and decided what happens on the Cape stays on the Cape, they leave with their friendship intact. When Noah decides he wants more, Carly is hesitant because Noah always maintained he didn't want to get married, while Carly dreams of having a husband and kids. It was interesting to watch Noah try to convince Carly to give him a chance.
There's very little drama in this book. It's also not very long, so I was able to read it in one sitting. At times it felt a little rushed, probably because of the length of the book.
One Summer Weekend is filled with laughter, friendship, and love. Once again, Shannon Stacey has created a book that will draw readers in and keep their attention to the very end. Readers who enjoy friends-to-lovers romances will enjoy this introduction to this new series.
Book Info:

Publication: August 5, 2019 | Carina Press | Cedar Street #1
Noah Stafford loves his life—his happy, single life. So what if he made up a fake girlfriend to stop his boss's matchmaking? He kept things close to the truth—Carly really does have long, sexy legs and a killer sense of humor. She just happens to be his best friend. His wicked awesome and completely platonic best friend.
But now his boss is having a destination wedding, and Noah is expected to attend…with Carly, his girlfriend.
Carly Randall has no interest in living out a rom-com plot. But Noah is her best friend, so she agrees to help. Still, once they arrive on Cape Cod, she can't explain the sudden butterflies she feels when he looks at her that way. Or why she doesn't mind when Noah's hands stray a little south of her back.
What happens on the Cape stays on the Cape.
Except not really, not at all, and once their sexy faux-cation is over, Noah and Carly return to a reality where everything's changed. Going for it would mean risking their friendship…but forgetting how good they were together just isn't an option.