One Wicked Night by Emily Quinn: Ugh… save me from novellas! But dang it if this author didn't make me fall in love with these characters in that short amount of time! I really feel like this author is one to watch because her writing is very tight and yet somehow kind of flowing but whatever it is, she makes what she's writing super fun to read.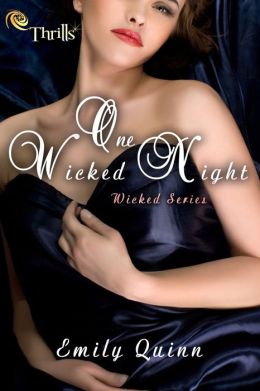 Angel, our heroine, was pretty great. I enjoy female characters that feel like real people. Angel has good friends and what sounds like an amazing job. As you may have seen in other reviews, I like my heroines to be strong and to have a purpose. Angel fills that bill quite nicely. I really understood what she was going through regarding her crush on her hottie boss, Fernando. I mean, in the past, I have found myself attracted to a boss or two and it can be tough! I mean, they're hot and on my mind and I was constantly distracted and I'm surprised I could get any work done! LOL! Luckily, Angel is not quite that bad! She only loses her mind when he's in the room with her! Either way, I liked Angel and I identified with her so she was a great heroine.
Fernando, I also liked. I didn't love the name but then again, I have literally never known anyone named Fernando. So it seemed a little out there but he was so cool that I didn't mind. I liked how he was also career-minded, like Angel, and he was pretty great at his job too. There's this one scene towards the beginning where Fernando is walking down the street, going to pick up his car at the shop and he just seemed so badass! I have no idea why! I guess it was maybe because he's in a suit all the time with his job and I sort of pictured him striding down the street in more casual clothes and it just sort of "did" it for me. Seeing a suit and tie guy deconstructed is pretty hot, in my opinion! So he was an all around win for me.
Together, Angel and Fernando are dynamite! Like, for real! You can just about feel the tension radiating off of them in any scene they have together. I loved it. The first time they kiss was so hot… holy cow. It wasn't just that they kissed in Angel's office, a forbidden place. It was that AND it was just naturally hot!
I would highly recommend this novella to anyone who wants a great and quick read that has plenty of humor and TONS of heat! I loved it and the only reason it got 4 stars as opposed to 5 was because it was WAY TOO SHORT! Give me more! LOL! But seriously, this novella was a lot of fun and I can't imagine anyone not having a blast while reading it!
Book Info
Publisher: Entranced Publishing, LLC (July 14, 2013)
Angel Jones is a career driven woman at the top of her game. But, she has a problem: a wickedly handsome boss. Getting her boss out of her mind is proving impossible. When her friends talk her into using someone else's invitation to an exclusive dating service, it's a dare she can't resist.
Fernando Durante knows lusting after someone at work is not an option. He has managed to avoid direct contact with her for years, the thing is the witty goddess now reports to him. Keeping his hands away from her is too hard a task. When a friend emails him an invitation to an exclusive dating service, Fernando doesn't play with the thought too much and accepts against his better judgment. What they think is best may not be what they really want. Will Angel and Fernando let their hearts guide them?