Parental Guidance by Avery Flynn: Caleb is always focused on hockey and being the best he can be. He's at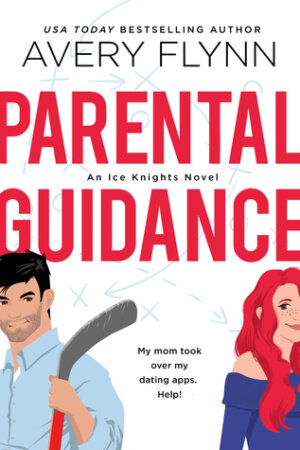 home on the ice in a way he's often not off the ice. He's sexy, charming, competitive, and a good teammate. He's not looking for love or a relationship, but he's also not a player.
Zara is a talented miniatures artist trying to get her big break. She's always working to ensure she has the financial security she needs. She's a pocket rocket with a feisty personality to go with her red hair and love of high heels to make up for her short stature. Zara's dog, Anchovy, is a Great Dane with a unique personality.
Caleb is in a bit of a jam after a video goes viral. In an attempt to repair his image, he's agreed to try a new dating app and that his mom will find his dates. Zara has no time for dating, but a drunken promise to a friend and her dad find her setting up a profile. Zara and Caleb are pretty much opposites but they find themselves agreeing to an arrangement where they go on five dates and then go their separate ways.
"This isn't a real or fake relationship, it's a temporary alliance," she said without an ounce of humor in her tone. "I'm not pretending to be your girlfriend or the random chick you're banging this week."
"Agreed." All of that sounded like it would cause more problems than it would solve anyway. "I've got a condition. Dressing up is not required. I'm not putting on a suit."
They set up some ground rules and it seems like it will be easy enough, apart from the pesky chemistry between them. Both are surprised that each date goes fairly well and that they don't mind talking and texting between dates. They get to know each other and grow much closer as they discover the rules were made to be broken.
Zara: I hate surprises, remember?
Caleb: You need to allow a little unusual into your life.
Zara: I guess that's why I temporarily have you. 😉
Parental Guidance is entertaining, humorous, and sexy. Avery Flynn put a unique spin on the fake dating trope. Ms. Flynn created a wonderful cast of characters in their families, his teammates, and Anchovy. Fans of Tessa Bailey, Sarina Bowen, and Rachel Gibson will enjoy Parental Guidance.
Book Info:

Publication: Published June 17th 2019 | Entangled Publishing LLC (Amara) | Ice Knights #1
All I want is to play hockey on the Ice Knights, instead, I'm in a viral video for all the wrong reasons and my mom—yes, my mom—has taken over my dating apps. Then, when I think it can't get any worse, the fates deliver Zara Ambrose, a five-feet-nothing redhead with more freckles than inches and who'd rather be anywhere other than on a date with me.
Now a bet with her friends and my PR nightmare have us both stuck in this go-on-five-dates-with-the-same-person hell situation. But if we band together, we can get the whole thing over with and go on with our lives. It's perfect! No feelings. No future. No fuc— *ahem* fun. No naked fun.
What could go wrong? Nothing—as long as I remember the rules. Don't notice the way she looks in a dress. Don't react when she does that little shivery sigh thing whenever we touch. Don't think about the fact that she's never had a toe-curling orgasm that wasn't self-delivered and just how badly I want to change that.
Five dates—that's it—and then we go our separate ways. At least, that was the plan..