Playing for Real (Paolo's Playhouse) by Natasha Moore is a real scorcher. It is a tastefully done BDSM romance with an engaging plot, interesting characters and an adult playhouse where sexual fantasies come true.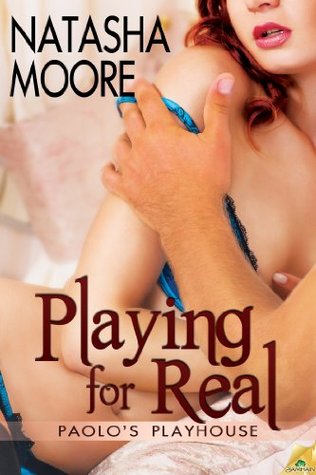 Julianne Barnes is a successful interior designer that has always been in control of her life. She believes that compartmentalizing her emotions, ethics and beliefs is the key to overall normalcy. She is constantly at odds with her sexual needs because they are not considered mainstream, and her prior boyfriend rejected her ideas for anything that wasn't considered vanilla. Her visit to the playhouse fills a void she never dreamed would ever be fulfilled.
Artist and successful businessman Paolo Mancini is a skilled Dom. He founded the Playhouse so that couples had a safe place to practice BDSM. Along with his good looks, Paolo exudes sex, dominance and charm. After a plethora of failed relationships, he has almost given up on finding the right woman to live the dom/sub lifestyle he desperately desires. Paolo wants it all and he wants it his way, but after one night of mind-blowing bondage sex with Julianne, he slowly begins to realize that the key to a successful relationship is compromise.
Julianne and Paolo begin seeing each other a few times a week. Each "play date" occurs in a different room of the playhouse where Paolo carefully teaches Julianne to embrace her submissive passions. Julianne's increasing need to be dominated is exciting, unanticipated and heady. Overtime, they begin to fall in love as they explore the possibility of a lifetime together.
Wow, this is an unbelievably hot and erotic book. Ms. Moore's voice is enticing and smooth, which kept me engaged during a couple of harsher BDSM scenes that would normally turn me off. I found the cover to be extremely inviting, due to the color variations. If you enjoy erotic romance combined with BDSM, look no further than Playing for Real.
Book Info:

Publication: February 4th 2014 by Samhain Publishing, Ltd. |  Paolo's Playhouse
There's no safe word strong enough for this power play date…
Paolo's Playhouse, Book 5
Paolo Mancini's needs are simple: a committed relationship with a submissive who will let him love and care for her. But after a long, heartbreaking string of relationship failures, he's beginning to think the perfect woman for him simply doesn't exist.
When Julianne Barnes steps into his playhouse for one night of bondage sex, she blows him away with her beauty, sass and bravery. She could be the one…if she will allow him to show her how to weave bondage and submission into her life. And hopefully, into his.
Julianne keeps her craving for soft ropes, dark blindfolds, and strong fingers apart from "real life", where this successful businesswoman doesn't need anyone telling her what to do. Yet Paolo's lyrical, steel-under-silk voice affects her body in ways that make her want to offer up her soul.
Slowly, delicately, Paolo tantalizes her closer to the idea that fantasy and reality can live as one. But to convince her it's safe to open the last compartment protecting her emotions, he'll have to expose his greatest vulnerability. His heart.
Warning: Features a petulant sub looking to live out her fantasies and a sexy Dom looking for love of the forever kind. Contains an intense sex-with-a-stranger fantasy, ropes, chains and a spanking. Or two. Or more.