In Playing the Player (Sydney Smoke Rugby #3) by Amy Andrews, Em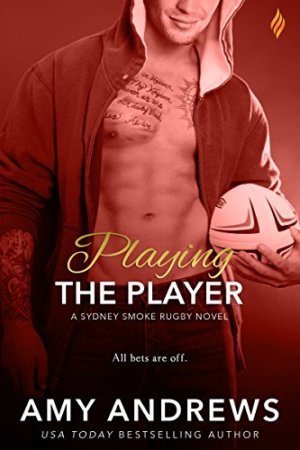 Newman has decided she's off men after too many relationship disasters and the kind of men she dates not wanting happy ever after. However, Lincoln Quinn isn't a man she can easily ignore, not when there's so much chemistry between them. The question is – is Lincoln capable of fulfilling her dream of happy ever after or is she making another mistake by getting involved with someone she believes is Mr. Wrong?
"What's the bet?" Dex asked.
"Hold up guys." It was good for Linc's ego that none of them doubted he could do it, but it didn't feel right to be betting on something like this.
"How soon Linc can convince abstinent-chick to do the wild thing," Bodie said, ignoring Linc."
"I've seen Linc talk a Sunday school teacher into his bed in under two hours," Ryder said, slapping a crisp green hundred-dollar note on the table.
This is a wonderful series by Amy Andrews, and ever since reading the second book (Playing it Cool) and witnessing the reaction Em had towards Lincoln, I couldn't wait to read this story because I knew it would have me smiling or laughing throughout. Lincoln is so confident, so sure in his abilities in anything he does whether it is charming women, playing poker or playing rugby and Em wanting to take a break for men makes things interesting for him. Will he win her over? What happens if she finds out about the bet he made with his teammates concerning her?
As for the dialogue, it was a wonderful mix of intense and playful. Em hasn't had a lot of success when it comes to dating, and Lincoln is the exact type of man she's sworn off of; a man that doesn't want the same things she does when it comes to relationships – love, marriage and hopefully kids. Certainly, I could sympathize with her predicament of should she or shouldn't she give Lincoln a chance. Because there's no way he'll change his mind about love and marriage unless she gives him a reason to by showing him what he's missing out on when someone finds their one and only. Furthermore, I loved the teasing banter between Em and Lincoln as well as the hero and his teammates. The hero is such a womanizer and has the reputation of how good he really is with women by his friend's admissions, and they aren't afraid to tease him about the bet and how long it'll take to win Em over. Tanner's answer and Linc's reaction to it had me laughing and flipping the pages quickly determined to discover if Tanner's guess would be the right one or not.
"Not surprisingly, I didn't really ask her interest in your co**. Although"—he lifted a shoulder, amusement coloring his voice—"I could if you'd like me to? Maybe you could write her a note and I can pass it to her? Being a teacher and all, she might appreciate it."
"Ooh, I like that idea." Bodie grinned. "How about this Linc? 'Would you like to see Lincoln Quinn's legendary co**?' Then you could draw two little boxes underneath the question. One for yes. One for no."
Both the main characters were fantastic, and I loved every moment of their banter. It creates really good sexual tension, which had me hoping that Em would give in to her feelings for Lincoln sooner rather than later. Yet, in saying that, their intimate moments were worth the wait. Who knew Em had such restraint when Lincoln is the type of man she usually goes for? Em is smart, brave and I liked how her feistiness provides quite a challenge for Lincoln; a challenge he's not used to when it comes to women. While the hero, I liked that he didn't push for more with Em until she was ready and that he showed her a different side of himself. That he could take things slow to prove that the bet didn't matter.
"So that's what you look like fangirling?" he teased as he backed out of the car space. "What amazing feat do I have to perform on the field to get you looking at me like that?"
The fact he didn't realize she wasn't interested in that kind of feat said it all really, but she wasn't ready to kill the buzz. "Oh please. I think they were the ones who were fangirling."
All of them had wanted photos with him. "Well, they shouldn't have been. They were awesome. Clearly, I'm going to have to get smarter to earn the kind of adoration you were giving them."
Em snorted. "Like you need any more adoration."
Overall, Ms. Andrews has penned another great book for her Sydney Smoke rugby series where the strong romance spills over onto the pages in red hot sex scenes that illustrate just how good Lincoln's bedroom skills are. The way this story ended was perfect, and I loved that both knew what a mistake it was to push the other away. Even better, I enjoyed how Lincoln made things right with Em. He had to do something to get the heroine's attention when she tries to explain her side of why she got upset and he did. No way was he going to let her get away again. He was committed to their relationship and proved it through his actions. I would recommend Playing the Player by Amy Andrews, if you enjoy the friends to lovers trope or enjoy books by authors Tessa Bailey, Katee Robert or Sarah Balance.


Book Info:

Publication: January 23rd, 2017 | Entangled Publishing | Sydney Smoke Rugby #3
After a long history with crappy guys, high school teacher Em Newman is going man-vegan. Four months of revirginization has opened her eyes to her doormat imitation but, baby's got spine now, and some smooth-talking—even if he is sinfully hot—rugby player, won't be adding her as a notch anytime soon.
Lincoln Quinn loves rugby, women, and poker. And he likes to win at all three. When his team mates bet him he can't break through Em's resolve, he's more than up for the challenge. But this lady has a shoebox of stipulations before she'll even go on a date with him, much less use that mouth for kissing instead of giving orders.
Something's gotta give but this time Em's not settling. And Linc's questioning everything he ever knew about matters of the heart.
Each book in the Sydney Smoke Rugby series is a standalone, full-length story that can be enjoyed out of order.
Series Order:
Book #1 Playing By Her Rules
Book #2 Playing it Cool
Book #3 Playing the Player