In Pride, Prejudice, and Other Flavors (The Rajes #1) by Sonali Dev, Being part of a family descended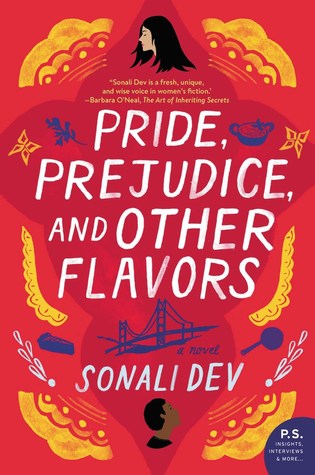 from Indian royalty who are now uber successful in the United States, Dr. Trisha Raje can say she had a solid start in life. It's just too bad that her inability to read people and her emotional awkwardness basically got her shunned by members of her family for the last fifteen years. Trisha has used that time and disappointment to focus on her career as a neurosurgeon. And she's had amazing success. Not that some of her family, particularly her father, has celebrated her milestones.
'Her parents' disappointment didn't matter. What anyone thought of her didn't matter. What mattered was that she got to do this. To save lives.'
When Trisha is suddenly thrown into helping coordinate an extremely important event for her older brother Yash, she's left floundering. It doesn't help that the chef she must confer with, DJ Caine, is gorgeous, talented, and intimidating as all get out. It's clear from the start that DJ is not impressed with Dr. Raje's pedigree and especially not her snooty attitude. But he desperately needs the job to help pay for his sister Emma's medical care. And he unfortunately needs Dr. Raje to be the one to perform the life-saving surgery–if DJ could only remember that fact every time she gets on his nerves.
'It was only the second time he'd met her, but she'd already made his heart slam with anger far too many times.'
Pride, Prejudice, and Other Flavors truly had something to please everyone. It was a loosely based modern version of Jane Austen's Pride and Prejudice, but more than that, it showed the complex family and personal dynamics and heartfelt emotions that Sonali Dev is known for.
'She loved that he was honest with her, that he didn't tiptoe around how differently they saw things. But they did see so much so differently. Their worlds were too far apart.'
Sonali Dev has quickly become one of my favorite contemporary authors over the past couple of years. Her blend of light and dark subject matter, mixed in with both gut-wrenching and lighthearted moments just captures my attention every time. And with this particular story, it was even more intriguing as she took parts of Jane Austen's Pride and Prejudice, including some characters and overall themes, and turned it on its head. I loved that she basically swapped the genders of Darcy and Elizabeth, and used their personalities but in a contemporary way. Even Wickham was a woman, not a man, but still equally as evil as the original. (Boy I did not like her…lol)
Dev's stories are always rife with Indian culture, traditions and how it all plays a huge role in her characters' lives. With Trisha and the Raje family, who we got to spend a lot of wonderful time with, it was everything to them. But where she grew up mainly in the U.S., she carried both cultures inside her and we got to see how she handled that mix. I honestly had a tough time warming up to Trisha in some respects, only because she was so analytical and made a few derogatory comments about our hero DJ Caine that made me mad on his behalf. I do think Trisha more than redeemed herself by the end, though, and I did like the positive changes she made.
DJ was a talented chef with his career on the rise (the food…dear Lord, the description of the food he made was incredible!), but at the same time his beloved younger sister's health was declining. It was such a complicated situation. DJ was tied to the Raje family in a couple of ways, through a friendship as well as a career-boosting gig, but it was Trisha that threw his life into chaos. His and his sister Emma's background was a tragic one that deeply tugged at my heartstrings. It made me want to see them both succeed and find happiness. I did love the ending, even though at times Trisha and DJ had serious trouble communicating together making things so much tougher than they needed to be. It made me want to give them a little shake to smarten them up, but I have to admit it was pretty entertaining.
An outstanding beginning to a series about the spirited Raje family, Pride, Prejudice and Other Flavors will be sure to delight readers. Between the relatable characters, their wide ranging issues, and the family bond they shared, this promises to be one fascinating series.
Book Info:

Publication: Published May 7th 2019 | William Morrow Paperbacks | The Rajes #1
Award-winning author Sonali Dev launches a new series about the Rajes, an immigrant Indian family descended from royalty, who have built their lives in San Francisco…
It is a truth universally acknowledged that only in an overachieving Indian American family can a genius daughter be considered a black sheep.
Dr. Trisha Raje is San Francisco's most acclaimed neurosurgeon. But that's not enough for the Rajes, her influential immigrant family who's achieved power by making its own non-negotiable rules:
· Never trust an outsider
· Never do anything to jeopardize your brother's political aspirations
· And never, ever, defy your family
Trisha is guilty of breaking all three rules. But now she has a chance to redeem herself. So long as she doesn't repeat old mistakes.
Up-and-coming chef DJ Caine has known people like Trisha before, people who judge him by his rough beginnings and place pedigree above character. He needs the lucrative job the Rajes offer, but he values his pride too much to indulge Trisha's arrogance. And then he discovers that she's the only surgeon who can save his sister's life.
As the two clash, their assumptions crumble like the spun sugar on one of DJ's stunning desserts. But before a future can be savored there's a past to be reckoned with…
A family trying to build home in a new land.
A man who has never felt at home anywhere.
And a choice to be made between the two.