Pure Satisfaction by Rebecca Hunter: She is way to young for him, that's what CFO Adrian Wentworth keeps telling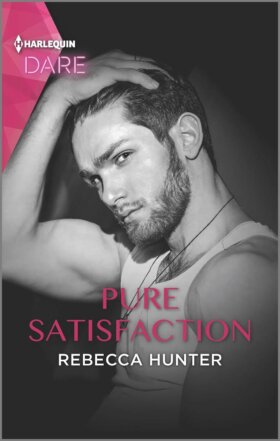 himself about they gorgeous Ruby Bisset. Convinced that he needs to keep his distance from Ruby because of their age difference, Adrian does he's best to avoid her while at the office but when the two are thrown together in exotic Hawaii there is no where for Adrian to hide.
Adrian's patience and will power are put to the test when he and Ruby are assigned to play a loving couple at a Hawaiian Christmas retreat, with a luxury cabin this should be a breeze, except there is only one bed. With every passing touch and flirty smile Adrian finds his resolve crumbling, but when Ruby all but goads him into kissing her under the mistletoe Adrian is a goner. Turns out Ruby might be young but she is most definitely not as innocent as she seems. As things heat up in Hawaii Adrian finds himself wondering if this thing between him and Ruby is only a holiday fling or do they have what it takes to make it work back home.
I absolutely loved reading this holiday romance, both main characters were super cute. I loved the pull that they had to each other. The only draw back for me was that Adrian kept mentioning the age difference, it wasn't such a big gap but he couldn't let it go. Nevertheless this didn't take away from a steamy romcom. I absolutely loved Ruby, she had this bright bubbly go getter attitude and I loved that she went after Adrian.
As with all Rebecca Hunter books this was a fast paced steamy read that was the perfect combination of cute and saucy.

Book Info:

Publication: December 1st 2020 | Harlequin Dare |
He's giving in to temptation this Christmas and bringing her pure satisfaction! Dive into this steamy final installment of Rebecca Hunter's Fantasy Island trilogy!
Bubbly Ruby Bisset is too young for CFO Adrian Wentworth…way too young for what he fantasizes about every time she parades through the office. That's why he's always kept the gorgeous twentysomething at a distance. Until they're assigned to impersonate a loving couple at a Hawaiian resort over Christmas. In a luxury cabin. With one bed!
Teased by the coconut scent of her hair and the glimpses of her smooth skin, Adrian can barely resist touching the little temptress. So when she goads him into kissing her under the mistletoe, he gives in. When their lips meet, he knows he's in big trouble. Ruby may be younger than him, but she's no innocent. She knows what she wants…and that's him!
Soon they're indulging in tropical delights hot enough to make any HR manager pass out. And pretending to be a man in love feels more real by the moment. Getting close to Ruby leaves Adrian craving something he can't have…but will what happens in Hawaii stay in Hawaii?