Rebel in a Small Town by Kristina Knight picks up where the first book in the series, Famous in a Small Town, leaves off. The town of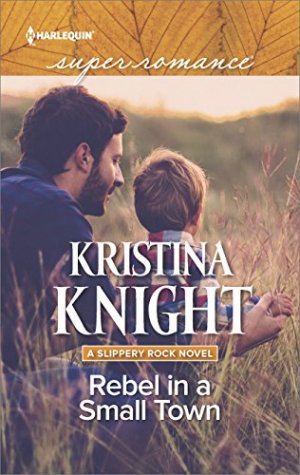 Slippery Rock is recovering from the devastating tornado that happened in that book. Concern for her family has Mara and her two-year-old son, Zeke, returning after years of running away from the town. Only her brother and grandmother don't know about Zeke, and neither does the boy's father, Deputy James Calhoun.
James has always had feelings for his best friend's sister. When she takes the blame for a high school prank he pulled to keep him out of trouble, she leaves town. The pair secretly meet up every time they're in the same city for business, but when Mara realizes the depth of her feelings she sneaks out, never contacting him again. He thought that night was the last time he would see her, never expecting her to return to the last place she ever said she would. He certainly wasn't expecting her to return with a child, either.
Mara has a lot of emotional issues stemming from the lack of love and abandonment from her parents. She worries that her grandmother, who had taken the three Tyler siblings in when they were children, would be disappointed in her, which is partially why she didn't tell her family about Zeke. She was also concerned about the reaction of her brother, Collin. She cares enough about James that she doesn't want to ruin his chances of being elected sheriff, using that and the prank to keep him at arm's length. She also uses it as an excuse to not reveal that James was Zeke's father to the town. James, for his part, doesn't care about that.
"If the people in town are stupid enough to not elect me because of pranks from our high school days, I don't want to be their sheriff." His gut twisted as he said the words. He wanted to be sheriff–he wanted it for himself–but he wanted to get the position honestly, and hiding Mara or Zeke felt wrong.
While Mara was known as the town troublemaker, James had always been considered the straight-laced son of the sheriff. He harbors guilt that Mara took responsibility for a prank he did, resulting in her needing to flee town. Now that she's back, he's determined to prove that they belong together, despite how different the town considers them. I liked how quickly James accepted Zeke and their interactions with one another, even though it took a bit for Zeke to warm up to him.
James restacked Zeke's uneven tower, explaining about sizing and connections as he moved each block into position. He was using his cop voice, which Mara found hilarious. Only James would talk to a fourteen-month-old baby building a tower as if he was a fifteen-year-old teen out on a joyride. The man was nuts. And possibly the sweetest person she had ever known.
The only thing I didn't like about the book was that James's run for sheriff was unresolved. Considering a lot of the book dealt with Mara being worried that the past would affect his chances at becoming sheriff, I would have liked to have known whether he actually won the election or not.
Rebel in a Small Town is about confronting the past to face the future, finding forgiveness, and the bonds of family. If you enjoy small town romances, second chance romances, or the brother's best friend trope, I would recommend this book.
Book Info:

Publication: July 4, 2017 | Harlequin Superromance | Slippery Rock #2
He's not giving up his family without a fight. James Calhoun has never been able to resist Mara Tyler, or her knack for mischief. Her reputation as a reckless teenager drove Mara from their hometown. So Slippery Rock is the last place James ever expected to see her, and Mara's timing couldn't be worse. With the upcoming election for sheriff, she threatens the squeaky-clean image James needs to win. Because Mara has brought with her the result of their steamy affair: his two-year-old son, Zeke. After the initial shock, James is determined to have both his family and career. He just needs to convince Mara that her home is where it's always been. With him.