Renegade Cowboy (Rocky Mountain Riders #3) by Sara Richardson is an amazing story about finding a second chance to be with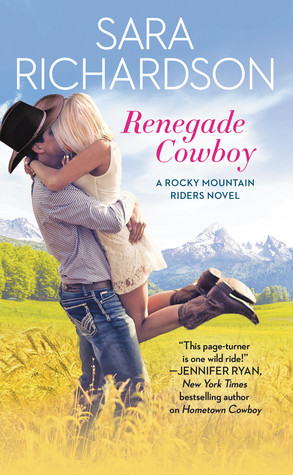 the one that you love. It has hot cowboys, sweet kids, it deals with issues of alcoholism, and following your dream. This is the story of Cassidy and Levi.
Cassidy Greer has been in love with Levi Cortez for most of her life. But after the death of her brother, Levi left town and stayed gone. Leaving not only his own family but hers as well. She was left alone to take care of a mother that has been in morning over the loss of her son and turned to alcohol to dull the pain. Cassidy has put her dreams on hold in order to take care of her mom. Now, just when she thinks that her dream might be coming true, Levi returns home and it might just make her dreams go up in a cloud of smoke.
Levi Cortez took a hit when he admitted to being the one to set a fire that burned down the fairgrounds, but what he is most ashamed of is the fact that he could not save his best friend, and that he left is second family to struggle for years, when what he should have been doing is stepping up and lending a hand.
When Levi pushes his way into Cassidy's life again and tries to make up for the past, while trying to convince her that he is worth taking a chance on, he might have more than a little work cut out for him.
What I loved about Levi and Cassidy is that they both harbored feelings for each other for years. They had a really connection that transcended the years that they are apart. I loved that Levi was willing to let Cassidy go to pursue her dream. I love that it was Cassidy's mom that showed Cassidy that she was running scared from Levi and from life itself.
An amazing story with that deals with strong issues and has a beautiful and hopeful HEA. An amazing series that I would highly recommend.

Book Info:

Publication: November 28th 2017 | Forever | Rocky Mountain Riders #3
Cassidy Greer knows that cowboys are nothing but trouble. But when her childhood crush comes riding into town, she starts to have second thoughts. Levi's a world-class bull rider now, and more handsome than ever. It's a good thing she's headed out of town soon or she just might be tempted….
As a famous rodeo star, Levi Cortez could have his pick of any woman on the circuit. But when he reconnects with Cassidy, sweet memories come rushing back. Levi knows Cass doesn't want to get roped into a relationship. Not with a cowboy. The only question is, can he convince her he's more than just a renegade cowboy before the summer's over?