In Reservations for Two by Jennifer Lohmann, chef Tilly Milek is fulfilling her lifelong dream of owning her own authentic Polish restaurant in her hometown of Chicago. She trained for years first with her beloved grandmother, then in her mother's restaurant, and finally in culinary school in New York. She has a great staff who equally love the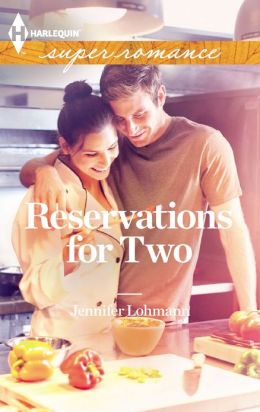 cuisine and culture she is trying to put forth into the community. Business is good until a local food blogger gives her a terrible review. She continues to hold her head high and stays optimistic as she deals with the fallout but then meets a gorgeous man at a local event. The chemistry between them is immediate but much to her dismay, she finds out shortly after that he is the blogger who has made her life miserable. She desperately wants to trust him but has trouble reconciling the two sides to Dan: the food critic and the man capturing her heart.
Dan Meier is a famous freelance writer and also a food blogger for a Chicago website. He was raised around dairy farms so food is in his blood. He loves his job traveling and writing for various magazines, looking for the next big food trends. He is criticized by his friends and co-bloggers regarding the negative review he wrote about Tilly's restaurant. He normally bases his decisions on three meals but only ate a Babka once. When he meets her at a local food event and realizes how passionate she is about her Polish cuisine, and how wonderful her food is, he knows he's made a mistake. As Dan falls for Tilly, he wishes he can take back his review and must find a way to earn her trust back.
The mix of these two characters is rather intriguing…a chef and a food critic. They normally would have no relationship aside from on a professional level and I can see how it would be a bit like fire and ice. They both are extremely passionate in their love of food and in what it means to share that with your loved ones. Jennifer Lohmann did a wonderful job conveying that excitement in both characters actions and dialog such as in the following quote:
"As soon as the door shut behind them, Dan's mouth came down on Tilly's, awakening a hunger she'd previously associated only with food."
I also loved that Dan is a romantic person at heart. He knows that his feelings for Tilly are genuine and fights for what he believes they can have together. Tilly's strong, independent personality is the perfect compliment. If you are a foodie (or wannabe foodie like me) and enjoy contemporary romance, I think you'll enjoy this touching story.
Rating:
Book Info:  Publication Date: February 5, 2013 | Series: Harlequin Superromance (Book 1834)
It's getting hotter in the kitchen
Tilly Milek almost has it all. She's opened her own Chicago restaurant, the way she'd always dreamed, and it's this close to being a success. Even better, she's met Dan Meier—a gorgeous man who loves food as much as she does. He isn't put off by her demanding job, which only makes her want to spend 
more
 time with him.
But a scathing review by an anonymous local critic puts everything in jeopardy. Worse, her steamy new man turns out to be the one who wrote it! Tilly doesn't see how she can ever forgive Dan, but she can't stop thinking about him either. In print he's her enemy. In person? He's as tempting as a perfectly prepared meal…and Tilly's appetite just might get the best of her.