The latest novel from Maisey Yates, His Ring Is Not Enough strikes all the right chords of an Harlequin Presents romance.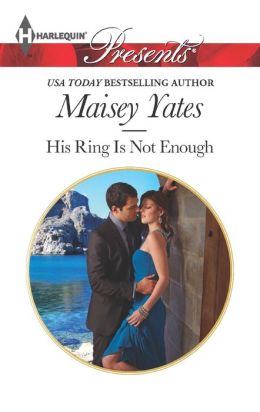 Ajax had everything planned out in his life and everything was going accordingly, until his would be wife Rachel, does a runner with his enemy on their  wedding day. Now to inherit the Holt business he needs to marry a Holt and when Leah Holt, his would be sister in law offers to marry him, he agrees against his better judgement.
Leah has always lived in the shadow of her beautiful sister and has nursed a broken heart after seeing Ajax propose to Rachel and his obvious love for her. Now that they are married, Leah discovers the Ajax she fell in love with was so much different than the man she was married too.
"Who is not coming?"

Leah looked up and her heart stopped. Ajax Kouros had chosen that precise moment to walk into the room, already dressed in a dark tuxedo, perfectly fitted to his masculine physique. He looked as untouchable as ever. A god more than a man.

Seeing him made her think of summer days at the estate. Of following him around and chatting his ear off. Her sister away at school, her father busy with work, her mother having tea with friends.

But Ajax had always been there to listen. Her sounding board. The one person she'd felt had understood her.

A lot of time had passed between then and now. She wasn't that girl anymore. Not foolish enough to think that a man like Ajax could be interested in her, or what she had to say. And he wasn't that boy, tanned from working shirtless in the sun.

He was a billionaire now. One of the world's most successful businessmen.

And today was the day he was marrying her sister. And officially gaining control of Holt Industries, along with a hefty piece of her own business, since so many of her shares were owned by her father's corporation.

At least, it was supposed to be the day he was marrying her sister and gaining control of Holt.

But Rachel was gone. Gone and not coming back, if her text was an indication.

The story was really good and though I have read stories with the spare bride theme, this read differently because of the characters. Leah was feisty, free spirited, forthright and the best thing in the story. Ajax was the perfect hero with a tortured soul and a dark past. He was stubborn sometimes, but he still managed to win my heart with his love for Leah.
Overall, His Ring Is Not Enough is a great read with strong characters and I can safely say that it was worth the buy. I would recommend it to everyone who loves Harlequin Presents and romance with the necessary steam.
Book Info

Harlequin Presents (Book 3173) Harlequin Presents # 3173
After "I do…"
Ajax Kouros had a plan. Being jilted at the altar? Not part of it—especially when facing a thousand guests and one hundred reporters. His company's future depends on marrying a Holt, and when his bride's sister steps up to the…altar, can he say no?
Leah Holt grew up watching her beautiful socialite sister hang on Ajax's arm. Now she has the chance to stand in the spotlight and save her family's fortune. But saying "I do" is only the beginning, and Leah soon realizes that the man she married is far more complex and distracting than the boy of her childhood fantasies….