Royally Arranged by Nora Flite: Thorne had long ago given up trying to please his impossible father. They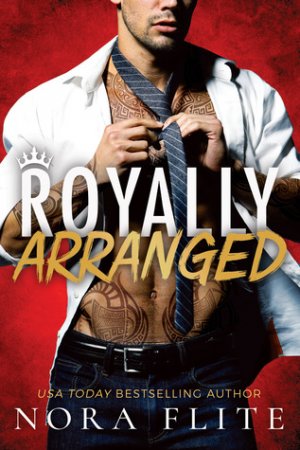 always seem to clash, and it didn't help that Thorne was often forgotten as the middle child among his brothers and sisters. He's been relatively content to manage the strip club, but it seems like his whole was flipped upside down when his uncle, the king, unexpectedly dies.
Nova is often forgotten among her siblings as well. She wants someone to finally notice her and see her as more than a pawn among her criminal family. More often than not, she was quiet, unassuming, and faded into the background, especially when next to her attention-seeking sister. Nova wishes she were more adventurous and comfortable in her own skin.
While Thorne and his siblings knew they were royalty, none ever expected to visit their country or take up royal duties, so he's definitely thrown to discover that he will be the next king. Thorne and Nova's families are enemies and have clashed for quite some time. Thorne doesn't trust them or their offer of a truce. He's even more suspicious when they offer up Nova as his bride, and queen, in an arranged marriage.
Under the table I gave Nova's foot a slight kick, just to get her attention. It worked, and she rewarded me with a questioning smile. "You're really sure about this?" I asked, as quietly as I could. It was for her ears alone.
She glanced around, then back to me. "Of course. I wouldn't be here if I wasn't sure."
The only bright side is the attraction and connection that Thorne and Nova share. When it's just the two of them, they can bond over being middle siblings and their dysfunctional childhoods. They struggle to trust each other when they aren't sure of the other's motives and the extent of their family loyalty when compared to their growing closeness and marriage.
"Let's exchange numbers. We don't want to get separated in there and not be able to get in touch."
I eased back into my seat. "Right."
"Also," he added as we typed our numbers in, "it's probably a step we should have done before we agreed to marry each other."
Royally Arranged is what happens when an arranged marriage meets a forbidden romance a la Romeo and Juliet. Nora Flite provided heat, drama, angst, conflict, intrigue, and dysfunctional families. Ms. Flite created an interesting cast of characters, some of whom you'll love and others you'll hate. Fans of Anne Marsh and Tracy Wolff will enjoy Royally Arranged.
Book Info:

Publication: Expected publication: August 28th 2018 | Montlake Romance |
Royal rivals feel the heat in the latest Bad Boy Royals novel from USA Today bestselling author Nora Flite.
Hawthorne "Thorne" Badd has lived his life as a reckless playboy—not as a presumptive king. But after the death of his uncle, it can all be his: the power, the crown, and the wealth. All he has to do is govern a country he's never set foot in…and marry the gorgeous daughter of his family's greatest rival.
Nova Valentine is as smart as she is beautiful—and when she first met Thorne Badd, she fell hard. She's never seen someone so comfortable in his own skin, and she'd like nothing more than to see all of it. Every bare inch. From his delicious tattoos to his bedroom eyes, Thorne is a dirty fantasy come true. But fantasy is one thing. An arranged marriage is another.
As they get acquainted, their chemistry is royally hot. But when surrounded by dark betrayal and devious schemes, can Thorne and Nova learn to trust each other…or will their families' rivalry prove too great a hurdle?