Rules of Contact by Jaci Burton: Flynn is a sexy, dedicated, and talented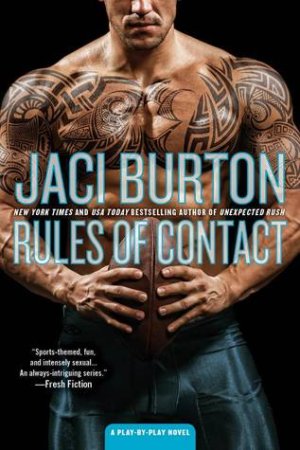 football player with horrible taste in women. Flynn is a really good guy who loves his family, but he keeps picking women more interested in the spotlight than they are interested in him. He has also developed a love of cooking that he's turned into what is becoming a very popular restaurant.
Amelia is a creative and dedicated chef. She loves to cook and is constantly working on perfecting various recipes when she's not running the kitchen for Flynn. Amelia was looking to start over by moving somewhere new after ending a bad marriage. She's not at all interested in getting back on the horse and dating again.
While Flynn may own the restaurant, he isn't completely hands-off when it comes to menu suggestions. Flynn and Amelia have developed a great working relationship as she's pretty open to his suggestions. Amelia has seen the revolving door of women in Flynn's life and she doesn't understand how these women aren't more interested in the man than the cameras that follow him.
"Thanks, but I can find my own woman."
"Oh, right," Amelia said. "Because you're doing such a winning job on that front so far."
Flynn's focus landed on Amelia. "Hey. Now you're joining the fray?"
"Now that I know you're not going to punch anyone at the table, I thought I might."
While Flynn and Amelia have both felt the chemistry between them, neither wanted to make a move and potentially harm their working relationship or the restaurant. Things quickly change after one night together. They seem to click on all levels as they challenge each other in and out of the bedroom and kitchen.
He rolled his eyes. "I'm sorry babe, but you're more of a sweet muffin than a femme fatale."
She frowned at him. "I am not."
"Being a sweet muffin is a bad thing?"
"Well, no. But I'd like to think I'm at least a little mysterious."
"Okay, you're totally mysterious. You probably have a stiletto dagger tucked into your garter."
Rules of Contact has the right combination of sweet, sexy, humor, and conflict. Jaci Burton provided great banter, entertaining interactions, and heat. Ms. Burton continued to provide the humorous and heartwarming family dynamics that I've come to expect from her books. Rules of Contact can be read as a standalone in the Play by Play series. Fans of Lorelei James, Shannon Stacey, and Carly Phillips will enjoy Rules of Contact.

Book Info:

Publication: December 6th 2016 | Berkley | Play by Play #12
In the new Play-By-Play novel by the New York Times bestselling author of Unexpected Rush, a football player with all the right moves on the field needs a better game plan for his love life.
A defensive end for the San Francisco Sabers, Flynn Cassidy is used to being in the spotlight—he just doesn't enjoy it. But if getting in front of the cameras will help his new restaurant succeed, he's willing. Now if he could just meet a woman who loved him and not his fame…
After her divorce, Amelia Lawrence is thrilled to start over as head chef at Ninety-Two. It's just the opportunity she needs to heat up her career—if only she wasn't wildly attracted to her sexy new boss. Their chemistry might be sizzling hot, but Amelia has no intention of being burned again.
Amelia is genuine and fun and Flynn can't get enough of her—and Amelia loves every second she spends with the tough but tender Flynn. But trust is a hard fought battle for both of them. Breaking the rules of contact and surrendering to their passion was easy, but are they willing to risk their hearts to win at the game of love?