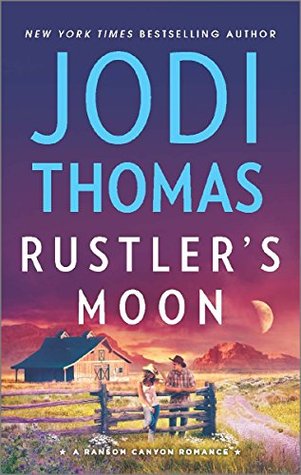 In Rustler's Moon (Ransom Canyon #2) by Jodi Thomas, running away is all Angela Harold can do once she learns her life may be in danger, and Ransom Canyon seems the perfect place to settle in; a place where no one will expect her to stay. Settling in is easy enough, especially when she finds a job she really likes. But when trouble comes looking for her, she doesn't know where to turn. Except to the one man she knows she's beginning to trust with not just her life but her heart.
"Angie Jones," Wagner said as if, now that they'd kissed, they were old friends, "I'd like you to meet my uncle, Vern Wagner."
The old man took off his hat and smoothed his palm over the few hairs left on his hand. "Nice to meet you, miss."
The man beside her leaned close to her ear. "I'm Wilkes Wagner, Angie. My uncle has been proposing to women for years and none have taken him up on it yet. I'm not sure, but I think he made up the part about leaving a few brides at the altar that everyone believes." He shook his head. "I'm sorry for frightening you. I thought you were in on a joke my uncle was playing on me."
Right from the beginning, I was drawn into this story by the heroine's point-of-view as she's forced to go on the run and not knowing who she can trust. The question is – just where is the danger coming from? Is it from someone in her family or someone else? The fast-paced, engaging plot is also narrated by two other characters besides the hero and heroine, and encompasses the mysterious strangers' trope.
The dialogue was compelling and there is some really witty banter between Angela and Wilkes that had me laughing, especially since Wilkes uncle is pressuring him to find a woman to settle down with. Not that I'm sure the hero's uncle is all that serious about it or not. However, the dialogue is also intense due to Angela's reason for needing to disappear, and everything she goes through to stay safe.
"Must I forever be waking you up, Wilkes Wagner? Don't you have a bed to sleep in?"
Wilkes slowly stood dusting off clods of mud. "Didn't I tell you that all you have to say is wake up? You don't have to knock me off the porch."
I really liked Angela. She's resilient, hard-working and even though she was warned not to trust anyone, it's hard for her not to trust Wilkes because he's so protective of her. While Wilkes, he's kind and caring, especially with his uncle who is an eccentric old man with a few tricks up his sleeve – so to speak. He's also very determined to help Angela when he realizes she may be running from trouble.
As for the other two characters that share the narration of the story with Angela and Wilkes, their stories – at least, a little bit – tie into the trouble Angela is facing. Yet, there's more to Lauren's narration. She's determined to convince the young man that rescued her once to give her a chance. While the other character, he was interesting. He's on some sort of quest and has such tenacity, for finding the place that's pre-occupied his mind for years. Does he find it or not? The answer to that question was what kept me reading his point-of-view.
Overall, Ms. Thomas has delivered a good, sweet romance book and I really enjoyed the way it ended with how Wilkes convinces Angela that they belong together. However, in saying that, it felt a bit anticlimactic when it came to the trouble Angela faced. I would recommend Rustler's Moon by Jodi Thomas, if you like sweet romances combined with a touch of suspense.
Book Info:

 January 26th, 2016 | HQN Books | Ransom Canyon #2
On a dirt road marked by haunting secrets, three strangers caught at life's crossroads must decide what to sacrifice to protect their own agendas…and what they're each willing to risk for love.
If there's any place that can convince Angela Harold to stop running, it's Ransom Canyon. And if there's any man who can reveal desires more deeply hidden than her every fear, it's Wilkes Wagner. Beneath the rancher's honorable exterior is something that just might keep her safe…or unwittingly put her in danger's path.
With his dreams of leaving this small Texas town swallowed up by hard, dusty reality, all Wilkes has to show for his life is the Devil's Fork Ranch. Though not one to let false hope seduce him, he can't deny the quiet and cautious beauty who slips into his world and changes everything.
Lauren Brigman finally has freedom at her fingertips. All she needs is Lucas Reyes's attention—a look, a touch, some sign that she's more to him than a girl he rescued one dangerous night. But now it's her turn to rescue someone, and the life-altering decision may cost her more than a chance with Lucas.