Saved by the Bride by Fiona Lowe: Annika is back in her hometown of Whitetail after a disaster of a relationship. In Whitetail she feels wanted and needed, even if her motivation to continue with her painting has withered. She is looking for a sense of purpose, and she finds this in Whitetail, a community in dire need of revitalization and economic growth. She and the town brainstorm ideas to bring work to the town, and Annika finds herself appointed interm mayor. Despite being near broke and behind on her rent, Annika takes this job on with zest…even if when it means crashing (literally!)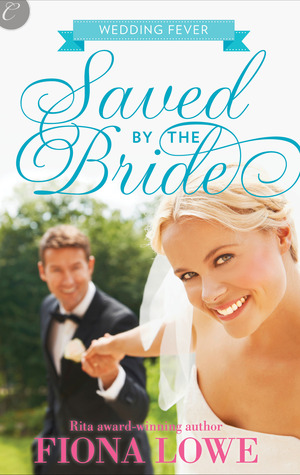 the billionaire Sean Callahan's party to get his attention and try to talk to him about how his company could help the town. Instead she ends up falling into the arms of Finn, Sean Callahan's son and second in command. They both feel a physical attraction that night, but it is quickly doused when Finn feels she's using this to get to his father, and Annika just doesn't do that!
Once the misunderstandings are cleared up, Sean is ready to act as CEO for his father's company for the summer. There's a catch though…he has to stay in Whitetail for 2 months with his father and father's family – something Sean is not happy about. He'd rather be in his office, focusing soley on the business. Before he knows it, Annika has reappeared and through a series of events ends up taking a job as Finn's PA!
For Finn, "The idea of Annika Jacobson as his PA and working closely with her had him all itchy and scratchy and hot and cold."
He views this as a foolish attraction and is determined not to let her be more than his PA. Unfortunately (or fortunately!) for him, Annika is evicted from her cottage, then the cottage he was going to have her stay in is now being used by his mother, and Annika is now staying with Finn in his 2 room cottage on the small island in the lake his family's estate is on. Before long they can't deny the sparks of mutual attraction and even knowing Finn will be leaving again after the summer, they give into the heat between them.
Annika is still busy working on bringing the town prosperity in her down time as Finn's PA…she needs to feel needed and wanted. She also makes it her mission to help Finn mend the rift between him and his father, in her own sneaky way. When Annika and the town's vision for the town is completely different, they fire her as mayor. Initially Annika is torn up by this and the feelings it gives her of not being needed, but she has more time to focus on her other mission of help now. Spending so much time with Finn has also taken up a space in Annika's heart and she begins to have some very strong feelings for him. Finn has made it clear though that he is not interested in a relationship after the summer, it will be back to business as usual for him!
Both Annika and Sean are hiding from pain in their lives. Can Annika help Finn heal and be part of his family again other than just business? Or will she push Finn too far? Annika will struggle with just how far the relationship is going, knowing that it is just for the summer. To pursue a relatioship with Finn could lead to a broken heart and can her already damaged heart handle that? Finn in his own way pushes Annika back just as hard, encouraging her to start painting again and not let one bad experience ruin what she could have. They both need to find themselves again, can they do it together then go their separate ways at the end of summer?
Fiona Lowe gives us a hilarious at times romance with Saved by the Bride. Annika is prone to accidents, making me laugh a lot through out the book, adding a great flavor to Saved by the Bride. I really liked Annika, even though she seemed to be hiding from her own problems by trying to fix everyone else's, she really has a heart of gold. Finn took a while to grow on me, he was all business and that's all he wanted to be. No flexibility there for emotions! He was really hanging onto his anger and hurt from childhood, which just made him even more less likely to want any kind of relationship.
There were lots of great secondary stories in this book. I loved the small town feel, even if I felt the story line was a bit over the top at times. Bridey, Finn's sister and her fiance Hank were quite dominant secondary characters in Saved by the Bride. I really liked getting to know them and watching Bridey at first go a bit crazy with her wedding planning, then relaxing and maturing over the summer. I adored Finn and Bridey's little brother Logan, he was a real treat and a great part of the story.
I had a little bit of a hard time getting into Saved by the Bride at first, only because the beginning story was so out of the ordinary and I kept thinking that would just not happen in real life! But once I got past that, it was a great romance and I really enjoyed Annika and Finn's take on a relationship.
I'd recommend Saved by the Bride to anyone who wants a good romance with a fun story you can also laugh at, with a little bit (but not much!) of heat in it.
Book Info
Publisher: Carina Press (April 15, 2013)
Welcome to Whitetail, Wisconsin, future home of Weddings that WOW!
As acting mayor, Annika will do anything to revive the economy of the town that's been her refuge ever since her art career imploded and her fiancé walked out. Even if it means crashing an engagement party to talk business with the bride's billionaire father. But the evening starts with a kiss from a gorgeous stranger—and ends with a night in jail.
Finn Callahan can't believe his sister is getting married, not after their parents' disastrous track record. And he'd rather be anywhere than working from his family's vacation home. Until he catches a leggy blonde sneaking in the window, and suddenly telecommuting for the season is very appealing.
Unable to resist their mutual attraction, Annika and Finn are soon mixing business and pleasure—just for the summer. Too bad Annika's heart missed the memo about not falling in love…
Book one of Wedding Fever.
99,000 words