Second Chance with His Army Doc by Charlotte Hawkes is book 1 of the Reunited on the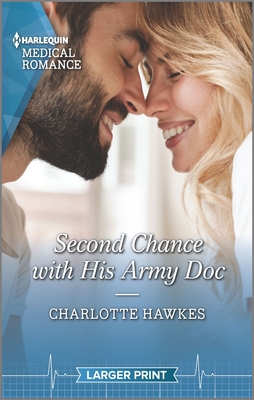 Frontline duet which is just as edgy as book 2, thoroughly enjoyed and action-packed in every way!
Fearless, principled, decisive and remarkable leaders in their chosen fields, fate throws the former teenage loves, Kane and Mattie, back together, but cruelly; Army protocol squashes any happy-ever-after that's on the horizon. Despite the damage of the past, feelings resurface and ricochet off the walls. The shock of discovering who each other is in the Army and their respective positions is heart-breaking because the author does such a wonderful job of escalating drama and emotion before delivering a wrenching blow.
Capturing feelings and emotions that drives you to believe in both Kane and Mattie was exceptionally well done by the author. Not knowing how anything will be resolved kept me on a fully engaged journey. Kane and Mattie's back story is interesting and ties in well to feed the fire of drama and emotion. The medical dramas actually make you feel frontline and the story concludes with a wonderful epilogue!
Crafted with exciting and heart thumping medical dramas; delivering powerful emotion and momentous action and adventure, Second Chance with His Army Doc is without doubt one of the best medicals I have read!

Book Info:

Publication: October 2020 | Harlequin Medical Romance | Reunited on the Frontline #1
From first love…
To forever?
Fourteen years ago, teenage Kane Wheeler disappeared from Mattie Brigham's life without a word of explanation. While nothing has filled the void left by Kane, Mattie has forged a successful life as an army doc. When they're unexpectedly reunited in the line of duty, their attraction is still as fierce as ever. And Kane's determined to convince Mattie they can still have a happy-ever-after above all!
From Harlequin Medical: Life and love in the world of modern medicine.
Reunited on the Front Line
Book 1: Second Chance with His Army Doc
Book 2: Reawakened by Her Army Major