Secrets of His Forbidden Cinderella by Caitlin Crews: Amelia is smart, fierce, and trying to create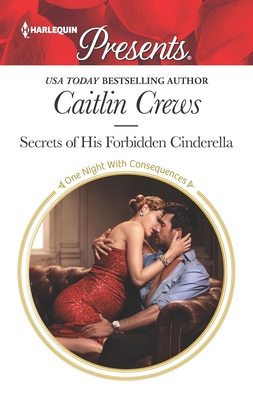 a life she wants instead of what she's used to. Amelia couldn't be more different from her mom who constantly fell in and out love with an unending string of rich men. She wants to put down roots and have a home.
Teo is proud, confident, arrogant, and in control. As the current duke, he lives his life to honor and protect his family and legacy. He's not a playboy, but he could have his pick of women. He plans to settle down one day with a suitable woman to continue the family line. He's formal, remote, and private.
Amelia and Teo have a complicated history. On paper, Amelia is everything that Teo despises, but he can't ignore her when she drops the bombshell that they are about to become parents. She takes him by surprise and he's not exactly prepared for the news.
"Of course, legal documents," she chided him. She chided him. "What did you think? That I would
trust you to let this go?"
"Let this go?" he repeated. And then he actually laughed. "Miss Ransom. Do you have any idea
how many enterprising women, whether they have enjoyed access to my charms or not, take it upon themselves to claim that I have somehow fathered their child?"
"You're welcome to treat me like one of them. In fact, I'd be perfectly happy if you thought I was
lying."
They don't exactly know each other very well, but they get a chance to see each other in a new light. Amelia is nothing like how he assumed she would be, based on his hatred for her mom. She surprises and challenges him at every turn and treats him like a man instead of duke, which is both frustrating and eye-opening for him. It's a battle of wills as he demands marriage and offers to show her all she's missing.
"You have a mouth on you." And something flickered in Teo's dark eyes that made her catch her
breath. And wonder if she would ever let it go again. "You had it when you were a child. I see time and maturity have done absolutely nothing to temper it."
She sniffed. "All the more reason you shouldn't marry this untempered mess, then."
Secrets of the Forbidden Cinderella is a rollercoaster with angst, conflict, and passion. Caitlin Crews provides an opposites attract story with tension, heat, and surprises. Ms. Crews developed strong characters and an interesting history. Fans of Jennie Lucas and Dani Collins will enjoy Secrets of His Forbidden Cinderella.
Book Info:

Publication: Published December 1st 2019 | Harlequin Presents |
Cinderella's scandalous secret
Their forbidden passion had consequences!
Overwhelming. Irresistible. Off-limits. Teo de Luz was all those things to innocent Amelia. Until she attends his opulent masquerade ball, and they share a deliciously anonymous encounter! Now Amelia must tell this brooding Spaniard he's the father of her unborn child.
Teo can't forget his runaway Cinderella, but discovering her true identity stuns him. His loathing of Amelia's family means he cannot dismiss her deception! He will marry her. He will claim his heir. And he'll exact a sensual revenge on Amelia, one pleasurable night at a time…