In See Me by Nicholas Sparks, Who knew that changing a tire for a beautiful woman on a rainy country road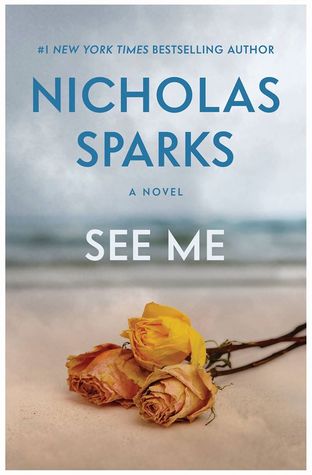 would change Colin Hancock's life? But that's exactly what happens when he meets lawyer Maria Sanchez. Used to always being on the wrong side of the law, he's been making progress in a teaching degree and finding ways to control his anger as of late. Dating a lawyer seems like a pipe dream to Colin, but he and Maria just click. So when she starts receiving threats, he knows he'll do anything possible to protect the woman who has come to mean so much to him.
'He knew his triggers and his limits, and though he'd come a long way in keeping his anger in check, there was always the possibility that he'd find himself in a situation that quickly spiraled out of control.'
Maria will admit that Colin and his intensity scared her at first. But once she figured out the MMA trained guy was as smart and kind as he was tough, she was sold. Although her parents are still a bit unsure, Maria knows she has a chance at something wonderful with him. But soon, between issues at her workplace and someone terrorizing her with ominous threats, she's unsure if Colin can hold his temper in check and not end up hurting someone or winding up in jail, making an already volatile situation that much more complex.
'Colin was the kind of guy she used to prosecute. Until yesterday, had anyone even suggested that she go out with a guy with his past, she would have laughed aloud or–more likely–been offended.'
More than just romance was in the works in Nicholas Sparks' newest offering, See Me. There was a healthy dose of both intrigue and action which kept me interested until the very end.
If you've read anything by Nicholas Sparks before, you know you're in for a solid story with well-developed characters. That is simply a given. And I love that about his novels. What I was happily surprised about with Colin and Maria's story was the level of mystery that wrapped around the 'whodunit' type plot. There were tons of twists and turns in trying to figure out who was terrorizing Maria and just when I thought I knew what was going on, I had to rethink the whole thing again as new pieces of the puzzle were revealed.
As for our main characters, Maria and Colin were an opposites attract couple. I thought it worked not only in regard to their personalities meshing well, but also for the storyline itself. Colin was a good guy underneath the anger issues he was having some success in controlling, but I liked most that he was so blunt and honest. He didn't lie or sugarcoat things and I could appreciate that. Colin's closest friends Evan and Lily were a nice addition and a hoot to get to know while also providing him an example of people who were settled and responsible(ish).
Maria was more of a Type A personality who was very compassionate and caring. I enjoyed her relationship with her family and especially with her sister Serena. There was so much love and tradition in their scenes that it really helped me understand where she came from and how she was so grounded. I think Maria was a great sense of balance in Colin's life while he was a source of excitement and at times a protective force that made her feel safe. They turned out to be great together.
See Me was a journey filled with love, anger, family drama, and revenge. If you're looking for something with clean romance and an edge of mystery, definitely check this one out.
Book Info:

Published October 13th 2015 | by Grand Central Publishing |
Colin Hancock is giving his second chance his best shot. At 28, he's focused only on walking a straight line – getting his teaching degree, working out at the gym religiously, and avoiding all the places and people that proved so destructive in his earlier life. The last thing he's looking for is a serious relationship. But when Maria Sanchez crosses paths with him on a rainswept night in North Carolina, his plans are upended in a way that will rattle the foundations of his carefully structured life. As for Maria, the hardworking lawyer and daughter of Mexican immigrants, Colin will challenge every notion she's ever had about herself and her future, making her question what truly makes her happy.
Before the couple has a chance to envision what a life together might look like, however, menacing reminders of events in Maria's past begin to surface. And as the threat of violence begins to shadow her every step, she and Colin will be tested in increasingly terrifying ways. Will demons from their past destroy the tentative bonds they have forged, or will their love protect them, even in the darkest hour?
SEE ME is a story of obsession, reinvention and a love that defies every expectation, reminding us that destiny often rests in our own hands-even in matters of the heart.