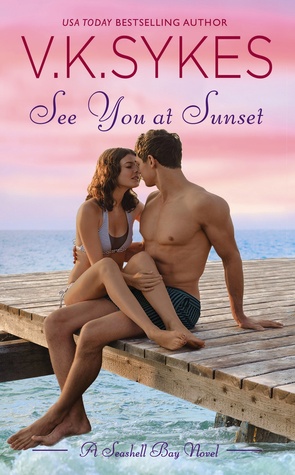 In See You at Sunset (Seashell Bay #3) by V.K Sykes, returning to Seashell Bay isn't easy for Holly Tyler. But she'd do anything for her family, and with her aunts in desperate need of her help to save their general store, she drops everything to be there for them. Except it's impossible to concentrate on ideas for the store when Deputy Micah Lancaster is constantly on her mind, and definitely the one man that could disrupt all the plans she's made for her future.
Unfortunately he'd drawn a hell of a lot unwanted attention to the both of them now. Holly was private person and hated that sort of thing.
"I'll behave myself," he said. "At least I'll try."
"Good, because I'd to have to handcuff the deputy sheriff in front of half the town," Holly said with mock severity.
Micah Lancaster can't believe his luck. The woman he has wanted for so long has finally returned home to Seashell Bay. He knows she probably won't stick around once she's helped her family out, but still he's willing to take the risk to get closer to her and show her what she's missing out on. However, when he starts investigating a series of robberies that have put the residents of Seashell Bay on alert, he's determined to solve the case because any of the town's residents could be next including Holly.
Although I haven't read the first two books of this series, I found I could easily read this as a stand-alone. Right from the beginning, this book was fast-paced and riveting because it not only encompasses the friends to lovers trope, but also introduced me – as a reader – to the main characters immediately. I really liked how it started with Holly returning to Seashell Bay. There's a huge amount of melancholy to her narrative, as if she's a robot just going through the motions each day, and that alone had me intrigued to learn more about her. Why is she afraid to give Micah a chance? Why doesn't she want to stay in Seashell Bay when it seems to be the one place that makes her really happy?
As for the dialogue, there were some really nice light-hearted moments between Micah and Holly that made me smile, especially when they're hanging with friends that are determined to convince her to stay because they want her to be happy. Instead of keeping everyone at arms length like she's done for the past few years. However, the dialogue did get quite intense due to Micah's investigation into the robberies and all the changes that are happening around Seashell Bay that has the town's residents in an uproar.
I really liked both the main characters, as well as the secondary characters. Holly is outspoken and tenacious when she's willing to fight for something she believes in, which is proven with all she does for her aunts. She's also resilient, brave, and hard-working. She's loves her aunts so much, and is determined to pay them back for everything they did for her growing up because without them her life mightn't have turned out as good as it had.
While Micah, he's kind, confident, hard-working and determined to prove to Holly that she can be happy again, which isn't easy when she has plans for her future that don't include staying in Seashell Bay. Then there's also the fact that she's had her one big love, and the man's ghost will always be between them. Always be a reminder that she can't handle falling in love with someone because of the risk of losing them like she did her first husband. Yet, Micah really proves himself over and over again. That he'll always be there for her, if she's willing to give him a chance.
Overall, this was a really good addition to this series where the sex scenes were hot and illustrated that love is worth fighting for. I really liked the ending as Micah proves that he'll do anything to protect the woman he loves, and how Holly finally realized that Micah was worth taking a chance on. Besides, she needed to be back among her friends and family to finally be able to heal from her past. I would recommend See You at Sunset by V.K Sykes, if you enjoy the friends to lovers trope. Fair warning though, it might be best to have a tissue close by.
Book Info:

 February 23rd, 2016 | Forever | Seashell Bay #3
DEEPER THAN ANY OCEAN…
All Holly Tyler wants is a fantastic career, a not-too-committed relationship, and a city where there are no painful memories. Instead, she's called back to her hometown of Seashell Bay to help with her family's struggling general store. It's a town where everyone knows everyone, and where one man could sink Holly's careful plans.
Deputy Sheriff Micah Lancaster has wanted Holly for as long as he can remember. He knows she has a life on the mainland—and a boyfriend—and that there's no real future with her. But now Holly is back and the attraction still flickers between them, a promise of something more. Their desire is stronger than any undertow . . . and once it pulls them under, it won't let go.