In Some Kind of Wonderful by Beth Ciotta, Maya and Zach have been best friends forever. They grew up in Sugar Creek, Vermont, but after high school they both went their separate ways. Maya to open a Cupcake bakery with a friend Giselle, and Zach to serve in the Marines. Now, years later, they are meeting again in person when both will be back in Sugar Creek for the holidays. Maya has brought her friend Giselle with her to meet Zach. Giselle lusted after a photo Zach sent Maya, and ever since they've been exchanged some very steamy correspondence…except it's been Maya writing for Giselle, something Zach does not know!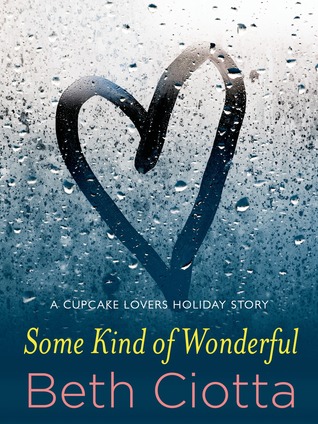 Maya has unexpected mixed feelings about Giselle being with Zach after she sees the two of them together and decides they'd make a perfect couple. When Giselle and Zach realize pretty fast they are not going to be a couple…Maya is both relieved and disbelieving. What she is feeling for Zach, has caught her off guard. Zach is seeing Maya in a whole new light too, but is not quite sure what to do about it, if anything. Maybe what Zach and Maya are looking for is what's been there all along, if they are brave and honest enough to take the chance. With a snowstorm, an unforgettable night and some Christmas magic, there might be hope for them as a couple after all!
Some Kind of Wonderful by Beth Ciotta is a novella that fits in with Beth's Cupcake Lover's series, but can definitely be read as a stand alone. You will see some of the characters from the previous books, but the story line of Some Kind of Wonderful is completely independent.
Beth gives us a sweet, heart warming romantic novella in Some Kind of Wonderful. As usual, her writing is flawless, she will pull you in and you will feel like you are right there with Maya and Zach. In the space of this novella Beth manages to convey the emotions of Maya and Zach perfectly, and makes them easy to relate to. The steam factor between Maya and Zach is definitely there. Beth doesn't go into great detail with that, but I honestly don't feel it's necessary for the story. The cats, the snow, and the magic make Some Kind of Wonderful all the more unique and fulfilling. With Beth's descriptions I felt like I was in a winter wonderland myself!
Some Kind of Wonderful is a great quick read that will leave you feeling happy. I'd recommend this to any romance reader looking for some holiday love!
Book Info:

Published October 22nd 2013 by St. Martin's Paperbacks
Growing up in Sugar Creek, Maya Templeton and Zachary Cole were best friends. After high school, each went out into the world in search of adventure. Maya moved to Florida to explore her passion for baking and pastry-making, eventually establishing her own business: Cupcakes & Dreamscapes. Zach joined the military and became a Marine Scout Sniper. Now, after years apart, they're both going home for the holidays. They don't seem to have much in common anymore. In fact, Zach seems to have the hots for Maya's business partner. But when the two get stranded together during a blizzard, they are forced to reexamine their connection. Are Maya and Zach better off "just friends"—just as they were when they were young? Or could it be that true love was there all along?