In Somebody to Love, Lori Wilde takes us back to Cupid, Texas…the land of legends and love.
Zoey and Jericho have been friends almost forever. But somewhere along the way, Zoey's feeling took a very unfriendship like turn and she started to feel a lot more for Jericho. When she tested the waters with a midnight kiss and he showed no interest, they brushed Zoey's transgression off and remained true to their friendship, even after Jericho left Cupid to go to university else where.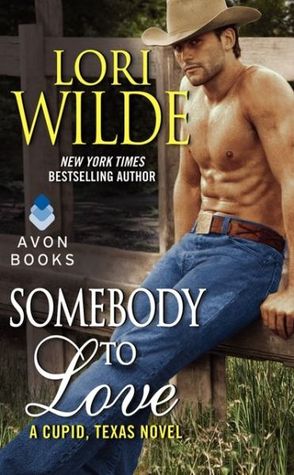 Now Jericho is back in Cupid and he's starting to notice Zoey as a grown, sexy woman…not just his best bud. But with a new job at the University in Cupid, and Zoey as one of the students on the archeology dig he's supervising, there is no way either of them can act on the mutually growing attraction. Determined to get through the dig and Jericho's probationary period with the university, they vow to keep their hands off each other until the dig is over. Zoey and Jericho try to fight the pull they feel for each other, but it's a lost cause…there chemistry is just too good together!
Jericho knows Zoey very well, and he worries that once she 'catches' him, she'll tire of him quickly…but Zoey hasn't settled because even unconsciously, no one has ever measured up to Jericho. When the dig brings out secrets, old history, and present day threats, Jericho is fast to realize he can't be without Zoey. But will it be too late for them?
I don't read a lot of books with younger characters in them, but I did really enjoy this one. I just really liked Zoey! Although most of the community of Cupid saw Zoey as flighty and irresponsible, I felt like she was really a lot deeper than they were giving her credit for. I loved that Jericho could see this too, he saw the real Zoey and understood her like no one else. Zoey was fun to get to know better in Somebody to Love. Her impulsiveness could sometimes get her into trouble though, and it was great to see her realize this and acknowledge it was an area for growth. Both Zoey and Jericho were strong characters with a zest for what they were doing that was catching!
Lori hooked me on the friends to lovers theme with this one! The anticipation, the dance Zoey and Jericho did was at times funny and at times heart warming! They already know each other so well, get along so well, I couldn't see how they couldn't give a relationship a chance.
I loved being back in Cupid, and seeing some of the characters from previous books in Somebody to Love! The small town feel that Lori manages to convey will easily enable you to picture Cupid, the residents and the legend. Lori effortlessly mixes mystery, legend, suspense and romance in a realistic way that will make you want to keep reading!
I can't wait to catch a glimpse of Zoey and Jericho in the next Cupid book and see what they're up to!
I do think Somebody to Love can be read alone even though it is part of a series. Lori gives enough background that you will easily be able to follow along…although I recommend reading the other books in this series anyway!
I'd recommend Somebody to Love to romance readers looking for a hot friends to lovers story with mystery thrown in to keep things stirred up!
Book Info:

Published December 31st 2013 by Avon | Series: Cupid, Texas
New York Times bestselling author Lori Wilde invites you back to Cupid, Texas, where love is only a heartbeat away . . .
Sexy cowboy-scholar Jericho Chance always knows exactly what he wants and how to get it. And after sauntering back home to Cupid, he's shocked to discover that he wants Zoe McCleary. After years from home, he takes one new look at his bubbly best friend, with her lightning smarts and luscious body, and it hits him like a bolt: she's his somebody to love and he's not leaving town again without her.
Settling down always seemed like a time waster to Zoe, a man magnet with a trail of broken hearts behind her. She's not meant to settle down—but how can she resist someone as persuasive as Jericho? There's no way they can ignore the explosive chemistry seething between them . . . even if it means risking their friendship…