In Something About the Boss by Yvonne Lindsay, Sophie Beldon has been working for Zach Lassiter as a personal secretary and helping him to manage the business in the absence of her boss, Alex. Maintaining a professional conduct with Zach is getting tough with each passing day for Sophie because of her red-hot yearning for him.With Zach acting secretive most of the time,Sophie's rational mind begins to question his motives and to find the truth, she decides to seduce him to find her answers. But the passion she discovers with Zach is so deep and beautiful that it has Sophie hoping that for once curiosity might not kill the cat.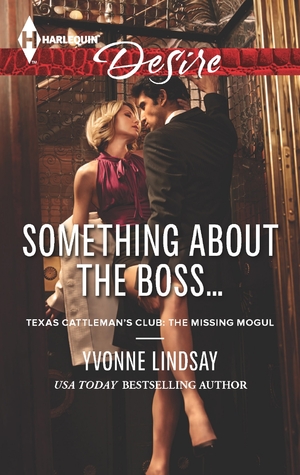 Something About the Boss by Yvonne Lindsay is a fast paced, well written romance with awesome chemistry between the characters. This story was perfect for the desire line because it had all the drama(betrayal,seduction and an uncovered secret) and heat, which the reader expects.
Zach was a caring and take charge hero and I loved everything about him and the same goes for Sophie who was an equally likable and independent heroine. Though this book is a part of a series,it could be read as a stand alone. The characters from the previous books as well as the books to come in the series come frequently in the story and it made me want to read more about them .The only thing I found odd was the speed in which the characters fall in love and the focus of the story was sometimes more on the side characters or the individual lives of the main characters.
Overall Something About the Boss by Yvonne Lindsay is an enjoyable read with great chemistry and heat between the characters along with an unexpected twist towards the end to keep you engaged. Though it can be read as a stand alone book,it would be better however to read the previous installments in the series to get a better reading experience.
If you love the author's previous works and are a fan of the Texas Cattleman's Club series, then this book is definitely worthy of a read.
Book Info:

Published September 3rd 2013 | Harlequin Desire (Book 2252)
From USA TODAY bestselling author Yvonne Lindsay comes a Texas Cattleman's Club tale of big business, seduction and betrayal.
Ever since Sophie Beldon's boss vanished, she's been working for Zach Lassiter. But Zach's been acting mysteriously, and Sophie can't help wondering what he's hiding. Could he be involved in the disappearance?
The trouble is Sophie's had a red-hot yearning for Zach from the moment they met. So when she decides to seduce him to uncover his secrets, perhaps she's kidding herself about her reasons. Because the soul-searing passion she discovers in his arms has Sophie praying that her mistrust is unfounded.