Speakeasy by Sarina Bowen is the fifth story in her True North series, set in rural Vermont with the Shipley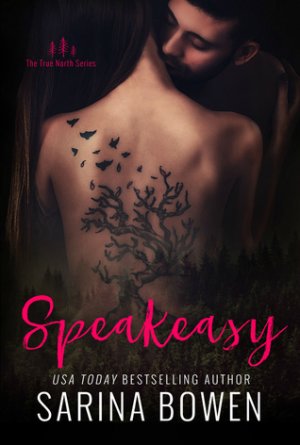 family and their extended circle of friends. I've enjoyed getting to know this family and am delighted that the series has continued to be fresh and original with satisfying romantic pairings.
May Shipley just discovered that her girlfriend has been cheating on her. While she'd suspected something wasn't right, it's still a blow to have it confirmed. So when bar owner Alec Rossi comes to her aid and offers her a ride and a hand to clear out her stuff and move back home (yet another failure) she accepts. It's the beginning of a real friendship and a chance for May to let loose a little when Alec shows that he's interested in something more if she's up for some no strings attached fun. May is bisexual, and while her last few relationships have been with women, having a man in her bed who aims to please works for her.
Alec is working hard to keep his new bar afloat, with plans to expand if he can get some funding and support. He's a bit of a playboy who enjoys sex with willing partners and is not looking for a relationship. Though the Rossi family has traditionally not got along well with the Shipleys due to a few past conflicts, Alec finds May to be sexy and fun to be around and he's happy to help her get over her hurt feelings. But can a woman on the rebound and a playboy make something long lasting together?
This story is a mix of light hearted humor, down to earth reality and a sexy and entertaining romance. May has a lot going on. On top of being dumped, May's best friend (and a woman she's been kind of in love with for years), Lark, is getting married soon and May has to sort through her feelings about that. And she's a recovering alcoholic. She's been diligently going to AA meetings, but every day brings with it frustrations and temptations. It was great to see a female character having to deal with alcoholism and a good reminder that it's a serious problem that can strike anyone. Because of her alcoholism, her family worries about her a lot and can be somewhat smothering, second guessing her choices and decisions. With Alec she can just be herself.
It might seem strange to have an alcoholic hooking up with a bar owner but Alec is a great support for May once she reveals that side of herself to him. He decides to work on making a tastier non-alcoholic beer to serve in his establishment alongside the other craft beers he has on tap. He's generous, supportive and top shelf boyfriend material – even if May doesn't seem to see him that way at first. Some of the conflict in the story comes from May's desire to keep their relationship a secret when Alec is ready to go public.
Alec has his own frustrations to deal with. Yes, he has a reputation of sleeping around and it makes people think he can't be committed to other parts of his life, like his business. He'd spent lots of days helping out his sister with her daughter when she was a single parent (now happily married) and has a close relationship with his niece and his siblings. His laid back attitude makes people assume he's lazy which is the furthest thing from the truth. He's a fun and genuinely likable character, and tries not to let his frustrations boil over though he eventually needs to assert himself to move his future plans forward – for his pub, and with May. He wants May to believe in them as a couple and the ball is in her court to get them to their happy ending.
It's always a pleasure to drop in on the Shipleys and we get several scenes with secondary characters who've had their own stories in the series, as well as May's down to earth Mom and salty grandfather. Each story reads well as a standalone so you can start the series at any point and you'll want to learn more. I'm hoping the younger Shipley siblings and extended family and friends will get some stories too. Like a cool drink of cider on a hot day, Sarina Bowen's True North series is a treat to quench your thirst for an enjoyable and heartwarming romance.
Book Info:
Publication: May 29, 2018 | Tuxbury Publishing LLC |

Sometimes you fall for Mr. Right. And sometimes for Mr. Right Now…
May
Did you hear the one about the girl who walks into a bar and catches her live-in lover kissing someone else? No? You're the only one in town who missed it.
Luckily Alec is there to wrap me up in strong arms and carry me out the door before things get too ugly. And that's not all Alec is good at. Our unexpected chemistry makes him the perfect rebound guy.
Alec
I should know better than to hook up with my rival's little sister, but the fiery look in May's eyes really turns my crank. She needs cheering up, and I'm just the guy for the job.
It's not like I'll fall in love. Not even after a string of scorching hot trysts, and the realization that we're good at the same things: wild nights and familial disappointment. I don't do love, never have, never will. So this is the perfect arrangement, for both of us.
Nobody would approve, but nobody has to know…