Stargazer by Wendy S. Marcus: Randall Dickson has been a Marine for a long time, but an injury from a hit-and-run driver has left him in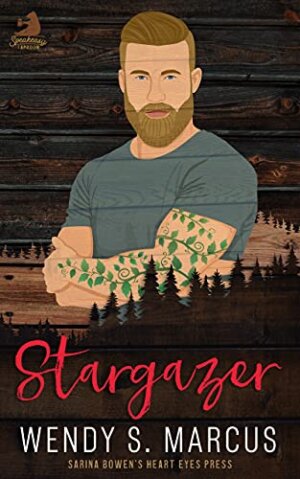 pain and on medical leave. He has to wait a while for a physical to determine if he can assume active duty again. He is miserable and afraid he may get addicted to pain pills. When a good friend encourages him to leave California and come visit in Vermont he decides he will give it a try. He will have a job as bartender and ways to keep busy.
The Speakeasy is a pub/bar for both locals and tourists. Lily Reynolds is a very attractive woman who flirts and dresses to garner good tips. Lots of her pay goes to help her build up her small business of making resin based art and products. Lily is an admirer of all sorts of art. This has gotten her in bad relationships with men who are happy to let her pay the bills while they supposedly work on their poetry, etc. Her latest, Dorian, has stuck her with the tabs for him and his friends when they come in to "dine and dash" at the Speakeasy. Although R.D., as Randall prefers to be called, is new he hates to see a man take advantage of a woman and sets Dorian and his buddies straight. It isn't hard to defend Lily. She is absolutely gorgeous.
After some upsetting turns of events, Dorian leaves and Lily needs a new roommate to share the bills. Although R.D. can be grumpy and not very communicative, he is big and strong and will be a good "guard dog" He will be in her extra room. Will the close proximity be a problem, especially since he won't be in Vermont for long?
There was so much to love about this novel. It worked very well that the author had alternating points of view. That way the reader can understand what is going on in the heads of both the hero and heroine. It was sweet that Lily received motivational notes everyday on cocktail napkins from the bar from a secret admirer. She truly needed the boost to lift her spirits.
Although Lily didn't always make the best choices in men, it is easy to relate to that since many of us have probably made poor decisions that we later regret. Her hard work on her resin projects is amazing. I knew nothing about such items, but have probably seen them without knowing. The authors research to make it sound authentic was impressive.
R.D. keeps a lot of his feelings to himself to start with. That is understandable after the things he has had to deal with. Underneath it all he is a caring man.
The author uses lots of heat to create a warm, sexy story. It takes a while for sparks to fly and then they burst into flames.
One of the cutest things in the book is Tulip, Lily's little dog. I could just picture her wearing little doggie outfits and walking with R.D. They say dogs are a good judge of character and Tulip sure lives up to that.
It is always fun to learn where the title of a novel comes from and the author reveals that part way through. It turns out that not only does stargazer refer to some who looks to the skies, but is also a type of lily.
Stargazer is the eighth of the series, Speakeasy Taproom. Each is written by different authors and are self contained. I'm so glad I had an opportunity to read this engaging tale and hope the author will have new books coming up soon.
Book Info:

Publication: September 2, 2021 | Heart Eyes Press | Speakeasy Taproom #8
Randall Dickson is coping. Sort of. An upcoming medical eval, one that could end his military career, has him stressed and making bad choices. So when a concerned friend issues a strongly-worded "invitation" to Vermont, R.D. is all in for a change of scenery, a temporary job as a bartender, and the opportunity to shake himself out of his self-destructive routine.
Then he sets eyes on his seriously sexy new co-worker…
Lily Reynolds, an artist by day, Speakeasy's favorite bartender at night, works hard to stay positive, unlike her surly new coworker. He may be a treat to look at, but that grumpy attitude and terse manner are not her type. So when Lily finds herself in desperate need of someone to share expenses, she convinces R.D. to rent her vacant room. There's no way she'll find herself falling for him.
She'd like to find the secret admirer who's leaving her secret love notes around the bar, though. But he won't reveal himself…
This standalone contains: opposites who definitely attract, a workplace romance, and an opinionated French bulldog