The beginning of Stepping Out by Marie Harte reminded me of the old film Trading Places starring Dan Aykroyd and Eddie Murphy. In this novella, Lisa Dawson is visibly pregnant, and yet her fiance Aaron is unable to stop his womanizing ways, even when she is standing only a few feet away from him at a party. Aaron is first and foremost a cheater, and he is so taken with Mia after only a brief, platonic conversation at the party, he places a notice in the online local newspaper in hopes of finding her for a potential rendezvous.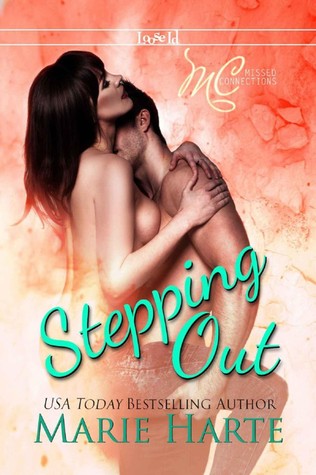 Gwen Wilcox, Mia's cousin, answers Aaron's note in order to teach him a lesson in regards to infidelity and trust. Luckily Gwen and Mia look alike. Gwen has no idea that she is actually corresponding with Conlan, Lisa's brother. Conlan believes that Gwen is a home-wrecker and agrees to meet her in order to save his sister from additional pain and heartache from Aaron. Believe it or not, their date ends in a merciless kiss that they will remember for a very long time. Whew, impersonating others is not what it is cracked up to be, as both Gwen and Conlan soon discover.
Gwen and Conlan actually run in the same circles. They are both journalists with their own newspaper columns providing sound advice to the lovelorn. Conlan is also a successful author and Gwen's social relationship blog is on the verge of going viral. In addition, they both have survived a past relationship where their respective partners cheated on them and as a result, trusting a member of the opposite sex continues to remain raw and biting. (Hence the need to set Aaron straight.) To top it all off, neither of them has had sex in about six months.
Their madness comes to a halt when their respective editors force them together to write a dual column and discuss their relationship views on local TV. When they meet each other as themselves, they are beyond shocked. Luckily they are level-headed enough to straighten out their bizarre situation. They also realize that their is an attraction between them that cannot be denied. Over a very short period of time they become friends, confidants and lovers. Their friends and family are cheering them on, in hopes of forever.
To begin with, the cover is hot and so is the novella. Unfortunately, I found the first chapter to be a little confusing and had to read it twice in order to understand who was being impersonated and why. The story moves along at a nice pace, which gave me the chance to get to know the characters. The chemistry and heat between Gwen and Conlan is scorching. This novella has a unique story line, interesting characters and an alpha male, who could ask for anything more.
I must mention that Loose Id LLC, has come out with some really great books from new and established authors. Don't pass up the opportunity to sample one their publications.
Book Info:

Published March 11th 2014 by Loose Id LLC
Getting over her cheating ex was hard, but Gwen did it. She's not about to let her cousin be bamboozled by a loser too. But when she meets Mia's date, he's way sexier and better mannered than a cheating jerk has a right to be.
After the headache of his own cheating ex, Conlan is done cleaning up for his sleazy future brother-in-law. To save his sister heartache, he intends to teach some floozy a lesson. But Gwen is one gorgeous schemer he can't ignore. After a heated kiss nearly spins out of control, they part–more enemy than friend. Until they meet again, forced to work together.
Finding out Conlan isn't who she thought he was floors Gwen. They do their best to push their misunderstandings aside, only to rediscover their fiery chemistry won't go away. The more time they spend together, the more they come to like each other. But when business makes their pairing awkward, will Gwen trust in him enough to fall in love? And will Conlan take a chance on the one woman who could give him the happily ever after he only writes about?