Suspicious Circumstances by Rita Herron is the fourth book in her badge of Honor series which features the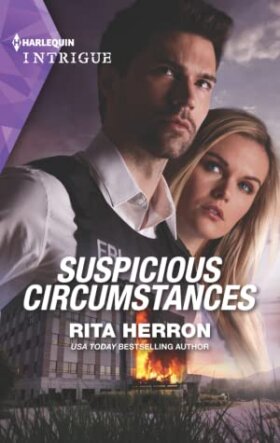 four Maverick brothers.
Peyton Weiss is a nurse at Golden Garden, a nursing home where Peyton's mother lives. Five years ago Peyton was working as an ER nurse at Whistler Hospital. She worked the night Gloria Inman was brought into the ER with chest pains and died. Gloria was her patient. Peyton was also working the night of the fire at the hospital. She has put all this behind her and has mostly forgotten the threat she received after those incidents. All was going well until Gloria Inman's husband was finally tracked down and brought in for questioning. He had tried to sue the hospital for negligence over his wife's case. He was bitter and threatened the hospital.
Shortly after his case was dismissed the arson at the hospital occurred so he was definitely a person of interest in the case. Maybe his capture is what triggered the threats starting up again. Or maybe the trigger was FBI Agent Liam Maverick taking her in for questioning. She didn't make a mistake the night Gloria Inman died but someone is framing her and altered the records to show she gave Gloria a shot of morphine. She is very careful. She knows she didn't make a mistake that night. Liam Maverick seems sympathetic but has she answered his questions well enough or does he suspect she is not telling him everything?
FBI Agent Liam Maverick, along with his three brothers, is determined to discover who set the fire at Whistler Hospital five years ago. His sheriff father died that night when he rushed into the burning building in an attempts to save lives. Finding Inman is the first step into getting answers. Nurse Peyton Weiss may be the next step. He feels strongly that Peyton is holding something back during questioning. Yet his protective instincts roar into the forefront where Peyton is concerned because she seems scared about something. When Peyton calls him for help he doesn't hesitate. She is being threatened and then someone tries to murder her mother. He is determined to find out what is going on because he suspects whatever is going on is related to the hospital fire five years ago. He is seeking answers and falling for Peyton.
This is an action-packed suspense story. Peyton and Liam are both well-developed characters who have come together and realize they have found something in each other that is special. Liam is the last Maverick brother standing. Now all four Maverick brothers have their HEAs and the answers they sought in solving the tragic fire that took so many lives including their father's.

Book Info:

Publication: October 1st 2020 | Harlequin Intrigue |
The fire that killed his father
Also devastated her life.
Searching for anyone who might have information about the hospital fire that killed his father, special agent Liam Maverick asks nurse Peyton Weiss for help in his hunt for answers. But someone doesn't want Peyton to share what she knows. As the threats against her escalate to attempted murder, Peyton realizes she has no choice but to work with Liam to catch the arsonist. With both of them risking everything for the truth, it becomes a daily struggle to stay alive—and to ignore the sparks flying between them that are hot enough to ignite.
USA TODAY Bestselling Author