Sweet Surrender by Nina Lane: There's something extremely satisfying about finding a new-to-me author that you love, and I'm feeling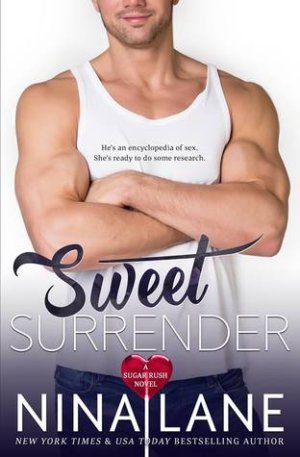 very smug and happy after reading Sweet Surrender and discovering Nina Lane. Sweet Surrender is a sexy, feel-good romance with endearing characters and a charming love story, and you'll smile and laugh from the first page to the last.
Kate Darling is a no-nonsense executive assistant who works for the CEO of the Sugar Rush Candy Company, but she's also a woman with a crush on a data analyzer at the company, who doesn't seem to know she exists. When she meets her boss's little brother, Tyler Stone, she asks him to teach her how to attract her crush after she realizes that Tyler is quite the playboy and an expert in flirting and dating.
Tyler is the fun, carefree brother in the Stone family and doesn't take life too seriously. His time is spent romancing women, attending parties and playing video games while living off the family trust. He readily agrees to tutor Kate in flirting, because he's attracted to her and needs her help. He's recently been forced to work in the library at Sugar Rush to redeem himself for some recent bad behavior. He has no idea what he's doing and must succeed at this job to get out of hot water, and he realizes Kate is the perfect person to help him. They agree to a mutually beneficial exchange never realizing where this bargain will lead them.
These two opposites don't just attract – they combust. The sexual tension between them builds from their first hello and explodes, and neither can seem to keep their hands or lips off each other. (Your eReader might start steaming from the hotness wile reading.) As they take their agreement from the library to the bedroom, they discover they have a lot more in common than they ever realized, and both unexpectedly develop feelings.
Tyler and Kate are beyond cute together. Their chemistry is palpable; their banter is hilarious; and their interactions are irresistible. There's one scene that I do not want to spoil—I'll just say there is dancing involved—that I still bust out laughing thinking about. Their romance is hot but also sweet as they begin to see each other in a whole new light that has them also reconsidering their own future. There's nothing not to love about Tyler, Kate and Sweet Surrender, and I look forward to reading more by Nina Lane.

Book Info:

Publication: 5/16/17 | Self-Published – Nina Lane | Sugar Rush #3
He's an encyclopedia of sex. She's ready to do some research.
Super-efficient Kate Darling needs lessons in love. As executive assistant to the CEO of the Sugar Rush Candy Company, Kate knows everything about organization and nothing about relationships. Then she literally falls into the arms of Tyler Stone, youngest Sugar Rush heir and notorious bad boy.
After a colossal screw-up involving a pretty girl and a stolen speedboat, Tyler is facing the punishment of an actual job. His father has sentenced him to organize the company library, which is Tyler's definition of cruel and unusual punishment. But if he can convince industrious, resourceful Kate to help him, he'll earn his release in no time.
Kate is no fool. Tyler is an encyclopedia of sex, and she's ready to do some research. She'll help him with the library—if he'll teach her about the erotic side of romance.
Cataloging, alphabetizing, and metadata collide in a storm of lust, sweat, and dirty talk as Kate and Tyler get to work on both the library and each other. But when he starts falling for her, their hot affair will be one for the books.