Sweet Thing by Nicola Marsh is part of the new Dare imprint from Harlequin and is a steamy and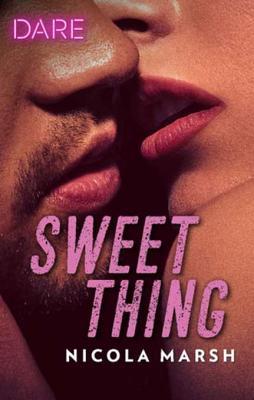 emotional tale of lust and love set with the backdrop of a decadent pastry shop.
Abby loves working at Le Miel, one of Sydney's hottest french pastry shops. The daughter of a wealthy society family, she'd left her cold and emotionally abusive husband after nine months of marriage, been ostracized by her family, and set out to make her own way. She'd managed to get a job with Remy King, worked her way up in his shop and they'd become good friends too. When Remy has a fall and ends up in the hospital, he asks his brother Tanner to come fill in for him while he recovers. Abby isn't so sure how that's going to work, having heard some not so flattering things about Remy's playboy brother, but she reluctantly agrees.
Tanner has his doubts about Abby too, not so sure that the woman who appeared out of the blue looking for a job from his brother doesn't have some ulterior motives. And both of them find their misgivings about each other complicated by their intense mutual attraction. With a month long time limit after which Remy should be back at work, they indulge in what should be a harmless, no strings attached affair. But as they share their secrets with each other and get emotionally attached, will they be able to walk away from each other so easily?
I've enjoyed previous stories by this author and this one certainly takes the heat level up a notch, as expected! Tanner skirts the line of inappropriate behavior at the workplace when he first makes his attraction to Abby known, but he does apologize and from then on everything that happens is with Abby's full consent. They share some steamy scenes as they explore their attraction to each other, at the same time keeping busy with the day to day running of Le Miel.
Tanner owns a nightclub, Embue, and there are some scenes set there as well. His best friend Hudson manages the club for him and gives him some advice (whether asked for or not). Abby doesn't have too many friends since she left her society life but she values her friendship with her co-worker Makayla, a woman who ensures Abby takes time to have fun.
There are some fairly heavy emotional scenes in this romance. Tanner is five years younger than Remy and was emotionally and physically abused by their father when their mother died in an accident. And Abby had her share of heartache with her family's expectations and her difficult though thankfully short marriage. Tanner and Abby confide in each other their traumatic pasts and this strengthens their bond. But both are wary of falling in love and it takes some arguments, some mistakes and eventual apologies and forgiveness for them to get to their happy ending. This is a sexy, sometimes heart wrenching but ultimately satisfying romance. I'm looking forward to reading more in this series!
Book Info:

Publication: Mar 01, 2018 | Harlequin Dare |
One night was supposed to ease her craving…But after one taste she's hooked!Abby loves her new life working at Sydney's finest patisserie. Working alongside brooding new man-in-charge Tanner is an unexpected but delicious challenge–especially as each night their attraction only grows hotter! But Tanner's past is as dark as the ink on his skin… He'll let her get closer than close in the bedroom, but does Abby dare go deeper?