In Take Me Home for Christmas (Whiskey Creek #5) by Brenda Novak, Sophia DeBussi may have longed for a future away from her controlling, abusive husband Skip, but she never thought he would leave her high and dry with an entire town demanding payback. Skip swindled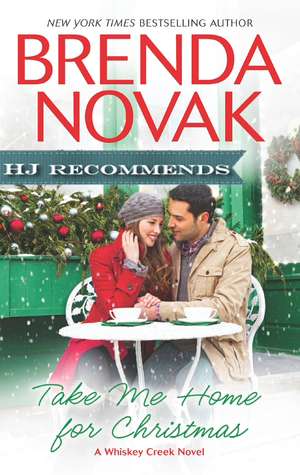 money from local townspeople in Whiskey Creek and when the FBI got too close, his attempt at escape proved to be his demise.
'Maybe the past weeks had been pure hell, but there was something new and fresh and exciting being forged in that fire.'
Left penniless and with no way to support her daughter Alexa, Sophia resorts to taking a job cleaning for her ex-boyfriend, author Ted Dixon. As awkward as it is, she has to make the best of it so she and Alexa can start a new life, preferably not in Whiskey Creek. She does treasure the growing closeness between her and her daughter and having a chance to prove her own worth by working. But her feelings for Ted haven't diminished over the years and being so close to him complicates their relationship further. Sophia knows he's never forgiven her for the way their romance ended when they were teenagers. But maybe she can make it up to him and they can have a second chance at friendship–and possibly something more as well.
'He was drifting closer and closer to her; he could feel it. But he didn't know how to stop what was happening between them. Being with her, standing up for her, felt too damn…natural.'
Ted Dixon is conflicted. He's still harboring anger towards Sophia over how heartless she was to him fourteen years ago. However, since learning about the unbelievable situation her husband left her in, he feels like the only person in town who can, or will, help her. It's not a smart thing to do, having her in his home five days a week, but it will help Sophia get on her feet and move on. That's what Ted is telling himself anyway. Especially when friends and family question his motives, asking if he's really helping Sophia so he can start a relationship with her again. But he knows better than to get involved romantically…right?
'But, oddly enough, it wasn't her beauty that drew him to her. Not entirely. It was the vulnerability in those big blue eyes–and the way she was trying to show her love for Alexa, despite her difficulties.
Talk about a heartbreaking tale! Take Me Home for Christmas is an absolute emotional roller coaster that tugged at my heartstrings from beginning to end. But don't worry…there's a HEA that will have you sighing blissfully at the end.
Book five in Brenda Novak's very popular Whiskey Creek series focuses on Sophia DeBussi and Ted Dixon. And as with the other novels in this series, you can easily read this as a standalone. Sophia goes to hell and back not just over the course of this book, but we also get a better glimpse at her life over the past decade and a half, since her disastrous marriage to Skip. I thought she would be a tough character to like given what I had read about her in previous books, but I have to say, I could sympathize with her quite easily once I understood what she had been through.
In a way, I found it shocking how the town members treated her after her husband cheated them out of money, but then I can unfortunately see how that might happen. Small towns are often filled with camaraderie until one of their own hurts them. Then everything changes. I guess what I was most surprised by was Sophia's honesty and humility. And her strength! I know I would be hard-pressed to deal so gracefully with such an ordeal and found it inspiring how she continually managed to put her daughter's well being first.
But we can't forget Ted. Poor Ted was just as bewildered and torn in this story as Sophia. Here is the woman he's been unable to forget (or forgive) for fourteen years, and he has the opportunity to help her by offering her a job but doesn't know if he can trust her. Or himself…because having her in his home brings up those old feelings again. I could understand his dilemma and loved that he really was trying to do the right thing by her and Alexa, even if it wasn't the easiest thing to do.
Take Me Home for Christmas is a powerful story of second chances, redemption and most importantly, love. It's definitely not a sappy, cheerful Christmas novel, but if you enjoy romances with deep emotions and strong characters, you can't go wrong with Brenda's newest addition to the Whiskey Creek series.
Book Info:

 HJ Recommends
Published October 29th 2013 by Harlequin MIRA
Christmas is a time for remembering….
Too bad all memories aren't pleasant. Everyone in Whiskey Creek remembers Sophia DeBussi as the town's Mean Girl. Especially Ted Dixon, whose love she once scorned.
But Sophia has paid the price for her youthful transgressions. The man she did marry was rich and powerful but abusive. So when he goes missing, she secretly hopes he'll never come back—until she learns that he died running from an FBI probe of his investment firm. Not only has he left Sophia penniless, he's left her to face all the townspeople he cheated….
Sophia is reduced to looking for any kind of work to pay the bills and support her daughter. With no other options, she becomes housekeeper for none other than Ted, now a successful suspense writer. He can't bring himself to turn his back on her, not at Christmas, but he refuses to get emotionally involved. He learned his lesson the last time.
Or will the season of love and forgiveness give them both another chance at happiness?