In Tangled Up In You by Samantha Chase, Teagan Shaughnessy, cousin of the Shaughnessy brothers, has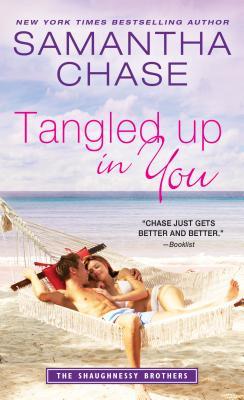 moved to Carolina to be near her family. She's raising her young son alone after his father was killed in Afghanistan before he was born. Bobby Hannigan has grown up with the Shaughnessy's and his sister married into the family. He's a police officer, recovering from an off-duty gunshot wound. His job is in jeopardy and Teagan is struggling to become more independent from her parents and their support. Will they be able to help one another?
After his injury, Bobby has become unbearable. Even his parents are tired of his miserable attitude. When he first meets Teagan, he acts rudely to cover up his embarassment that hey couldn't even hold his plate. Teagan, however, doesn't take offense to his behavior. While most people seem to want Bobby to get over the fact he may never be able to return to his job, she understands that he needs to come to terms with everything on his own time.
"You're dealing with a fairly traumatic injury. I'm sure you can't help but be in your head more than you want to be."
He knew he was staring, but…she understood. "Yeah, well. I'm getting kind of tired of it, and so is everyone around me."
Now it was her turn to look fierce. "Tell them they get to have an opinion when they've been shot."
I liked Bobby and Teagan together. They've both been through something tragic and can really understand each other when no one seems to be able to. I also liked the relationship Bobby develops with Lucas, Teagan's son. They had an instant bond.
I was a little disappointed in Quinn Shaughnessy in this book. He's married to Bobby's sister. At the beginning of the book he's sympathetic towards Bobby, but then he spends a good portion of the book warning Teagan to stay away from him. I wasn't sure where his attitude came from, and considering he hadn't even seen Teagan in twelve years, he didn't really have a right to put doubts about him in her mind.
While this book can be read as a standalone, I do recommend reading the other books in the series. Bobby has appeared in previous books, and it will help readers have a better understanding of his relationship with Quinn and the rest of the Shaughnessy family.
Tangled Up In You is about two people finding a way to move forward after difficult circumstances. Readers will be charmed by Teagan and feel for Bobby. While I felt Bobby was too brooding at times, it was understandable considering what he was going through. Readers of the series are going to enjoy seeing him finally get his own happily ever after.
Book Info:

Publication: April 30, 2019 | Sourcebooks Casablanca | The Shaughnessy Brothers #7
One fateful night Bobby Hannigan sustains a gunshot wound that could end his career as a police officer. If that's taken from him, he doesn't know what he'll do. The only ray of hope is a kindhearted single mom who understands his struggles…
Teagan Shaughnessy and her young son have just moved back to the Carolina coast to be near family. When she meets Bobby, the timing feels wrong, but everything else feels oh-so-right. Bobby and Teagan each had plans for their own futures. But they're finding that those plans are meaningless if they can't be together.