Tango & Lace by Misty Dietz was a riveting, fast paced novella that I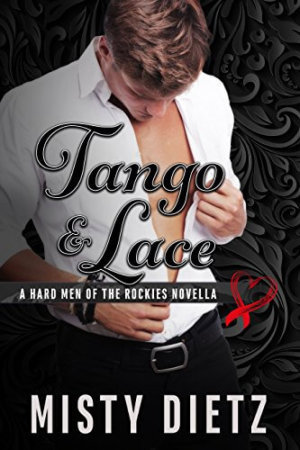 really got into and enjoyed! Jackson has 'finally' come home to help care for his grandmother Rosie and help fix up her house. But home also means seeing his former lover Mya…a hot blooded woman with whom things ended poorly. Mya is part of his grandmother's life, so there is no way they can avoid each other. When they meet again, all kinds of sparks fly, but Mya is determined not to fall for him again. Circumstances push them together with a little help from Rosie, but can either of them risk their heart for the other again for someone they're never truly gotten over? Suddenly there is more than their hearts at risk though, and as danger stalks Mya, they find the walls they've build to protect themselves for each other crumbling. Will they be able to take the chance? Or is it too late for second chances?
I loved this novella! In particular I loved Mya!!! She is feisty, passionate, and holds nothing back! She literally holds nothing back! I loved the Spanish phrases that fly out of her mouth, her hot temper. her passion for family, her caring for others, even her life plan is one of passion for her…and eventually her passion for Jackson. She is a powerful, strong main character who will stick with me. She is a heroine I can clearly see in my mind. Make no mistake, Jackson is just as lovable and a very strong hero. He's also passionate, but for him it doesn't flow out of him as easily! The care these two so obviously have and fight against for each other is palpable throughout Tango and Lace. The suspense of danger directed towards Mya adds a lot of edge to Tango and Lace, and Misty had me totally fooled about who it was and what would happen!
The secondary characters are just as powerful and relevant to the plot. As usual, Rosie shows up, and she is a constant in this series. I love her. She is definitely not your typical grandmother and if mine was still alive I'd love it if she was like Rosie! All of the secondary characters stand strong and show up from other books in this series, but for me it is Rosie who shines.
Despite some conflict and tension, and an unexpected danger thrown into their lives, they all handle it so well and felt like a family I'd love to be a part of ((both families!).
Tango & Lace is part of the Hard Men of the Rockies novella series, but this one is a definite stand alone. I would highly recommend it to any romance reader who liked strong family connections and second chances!
Book Info:

Published: September 13th 2016 by Misty Media | Hard Men of the Rockies
World renowned geoarcheologist Jackson Whiteside has come home to Colorado to care for his grandmother and teach at CSU…not to rekindle the passionate, but doomed love affair with gramma's high-spirited neighbor whose memory has haunted him half-way across the globe. But the moment he sees his feisty, melodramatic ex, his cortisol levels spike. And he damn well knows he's about to unearth more layers of their relationship…whether his neurotransmitters like it or not.
If there's one thing dancer and dispatch operator Mya Castillo can do well, it's Tango. But dancing with her feet is one thing…dancing with her heart is another. Especially when she has no choice but to accept her ex— the world's most unintentionally sexy professor—as her stand-in partner for the biggest performance of her life.
Jack's two-year scientific immersion has kept a tight lid on his dangerous right-brained proclivities, but his irritatingly illogical gut is telling him the attack on Mya's dance partner jeopardizes more than just her dance studio. It bodes evil toward the woman he still loves beyond reason, so this is one dance he won't sit out.