In Tempting Little Tease (Blackwell-Lyon #4) by J. Kenner, Leo has known Samantha since they were both kids. Years later, he's still best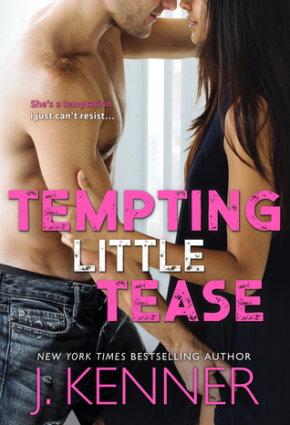 friends with her older brother Brody, who not surprisingly has a protective streak when it comes to his little sister. Leo would never willingly do anything to damage that friendship–or take advantage of the adorable girl he knew growing up. But he finds out how dramatically Samantha has changed when Leo gets rooked into playing her fake fiance at her friend's destination wedding. She's beautiful, smart, curvy in all the right places…not that he's taken notice of it or anything. But it's no use trying to ignore his thoughts when it turns out they have a shared attraction. Where they take things from there is anyone's guess. But it will be one heck of a ride, of that he has no doubt.
'I mentally curse myself for the way forbidden thoughts about Brody's sister keep popping into my head.'
How can you go wrong with a romance that has two popular tropes: fake engagement and best friend's little sister? Especially if it's written by J. Kenner with the charming characters and flirty, sexy bantering she's known for.
'I draw a deep breath, mesmerized by this woman who is no longer the gangly, shy girl I used to know. Now, she's a woman I crave.
And a woman whose heart I would never risk breaking.'
Tempting Little Tease was a pleasure to read, from beginning to end. I had such fun with Leo and Samantha and thought they were an adorable couple who had tons of yummy chemistry right away. Where this was a shortish full-length novel, I thought it worked well that they already had some history so it didn't seem like things were rushed between them. That doesn't mean that Kenner scrimped on building the tension, though. Whew! Samantha and Leo were super hot together and had some memorable scenes that will leave readers breathless (or panting…lol).
Kenner always creates truly memorable characters who are so cool and realistic that you just want to hang out with them. Leo and Samantha both definitely seemed like down-to-earth people and I loved how hard Leo tried to keep things in the friend zone with his supposed "fiancee" Samantha. The poor guy…it seemed like he just couldn't win most of the time. But it was crazy sexy and completely satisfying when Samantha and Leo finally gave in, turning this from a lively flirtatious time to one hot destination wedding to remember.
Tempting Little Tease was a breeze to read. A fun plot, scorching romance, and even a wee bit of Blackwell-Lyon security work involved, a good time is certainly in the cards for anyone who picks this book up.
Book Info:

Publication: Published August 23rd 2019 | Martini & Olive Books | Blackwell-Lyon #4
She's a temptation I just can't resist…
My business is security. I protect other people—sometimes at my own expense.
It's the only way to explain how I got talked into playing fake fiancé for my best friend's little sister.
Now I'm seeing little Samantha Watson through new eyes. Instead of the little girl I used to tease, I'm up close and personal with a stunning woman whose curves and heat and heart-stopping smile rocket straight to my heart, not to mention parts south.
I've never minded going above and beyond for a job. Except playing the smitten lover doesn't feel like acting anymore.
Despite all my experience, I'm the one who forgot to secure my heart.
The only rule for this job was to walk away at the end.
But maybe this time—for the first time—I'm going to break the rules.