That Night on Thistle Lane by Carla Neggers is a charming and sweet sequel in the Swift River Valley series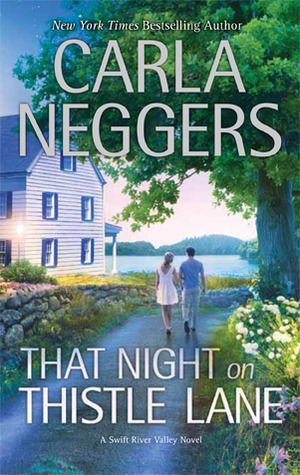 Librarian Phoebe O'Dunn has a wonderful life in the small Massachusetts town of Knights Bridge. She is surrounded by her family, friends and rich New England history. She discovers an untouched hidden room in the library's attic that looks like a secret sewing spot from decades ago. Phoebe finds beautiful handmade gowns that she lends to her sister and friend to wear at a benefit masquerade ball in Boston. On a whim, which is very unlike her, she dresses up in a princess gown and slips into the ball without anyone's knowledge. Once there she spots a handsome swashbuckler across the room and they are immediately drawn to each other.
Noah Kendrick is an MIT graduate and the founder (and former CEO) of NAK Inc – a high-tech entertainment company in California. His best friend Dylan is engaged to one of Phoebe's best friends Olivia, and he talks Noah into attending the benefit masquerade ball. Noah reluctantly goes as a swashbuckler, complete with cape and sword, and is struck by the sight of a beautiful princess in an Edwardian gown. But as they take their turn around the dance floor, he spots a man who has been following him for days and excuses himself to go confront the stranger. Phoebe and Nick are separated and wonder if they'll ever find their dance partner's true identity.
I must say I love a novel with a bit of mystery to it and Phoebe and Noah's story actually has a couple of mysteries woven in. The author did a great job of giving us a true sense of what it's like in small town America and the dynamics there between its residents and supposed "outsiders". Having not read the first book in this series I was worried it would be difficult to follow, but the author pulled in just enough background for it to feel cohesive. Both main characters are independent, smart and at a point in their lives where change is inevitable. I can definitely see how their personalities would be a good balance together…Phoebe being a true romantic who is fiercely loyal, and Noah being intensely passionate and protective.
I enjoyed Carla Neggers writing style immensely and hope her future novels are just as charming and well written as this turned out to be.
Rating: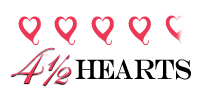 Book Info: Publisher: Harlequin MIRA (January 29, 2013)
New York Times bestselling author Carla Neggers returns with the second book in the Swift River Valley series, That Night on Thistle Lane, following Secrets of the Lost Summer.
More than just make-believe
Librarian Phoebe O'Dunn deals in stories, but her passion for history has taught her that happy endings are rare. Her life in Knights Bridge, Massachusetts, is safe and uneventful…until she discovers the hidden room.
Among its secrets is a cache of vintage clothing, including a spectacular gown-perfect for a gala masquerade in Boston. In the guise of a princess, Phoebe is captivated by a handsome swashbuckler who's also adopted a more daring persona. Noah Kendrick's wealth has made him wary, especially of women: everybody wants something.
When Noah and Phoebe meet again in Knights Bridge, at first neither recognizes the other. And neither one is sure they can trust the magic of the night they shared—until an unexpected threat prompts them to unmask their truest selves.
After all, it takes more than just the right costume to live out your personal fairy tale. It takes heart…and the courage to be more than you ever dreamed.