The Accidental Girlfriend by Emma Hart: Mason and Lauren are not looking for a relationship, but try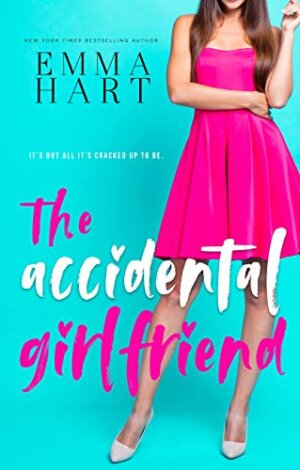 telling their family and friends that. Lauren ends up posting an ad to pose as a fake girlfriend after her girls night takes a wrong turn. She's perfectly happy with her life as a bartender and her crazy cat. She's sassy, spunky, independent, and has a unique sense of humor. Men are too much work and she can take care of her own needs, thank you very much.
Mason is sexy, charming, and works with his hands. In hindsight, he made a lucky escape in getting out of his last relationship, and he's not looking to get involved with anyone anytime soon. It's hard enough to keep up with his family and not gain the attention of his nosy elderly neighbor.
With a high school reunion coming up, Mason's sister does him the favor of arranging for Lauren to be his date. Before he knows it, he's agreeing to the set-up and picking up Lauren for their "date." Both are surprised when they meet between the instant attraction and how easy their date is. It's not awkward but actually kind of fun.
"You did that deliberately."
My grin widened. "You're cute when you're flustered."
His nostrils flared while Pru cackled in the back seat. "I'm not flustered."
"You're so flustered," I retorted. "And cute. So, so, cute."
"All right. I get it. You've made your point." His lips twitched. "No more cute."
They agreed to the date as a one-off, but things spiral out of control with yet more meddling. They work out a deal, albeit reluctantly, to continue their fake relationship. They banter, tease each other, and back each other up as needed. It's all too easy but the only people they're fooling just might be each other.
Mason nodded. "It's true. She would. She's hard work."
I nudged him. "You're not exactly easy yourself. You are why we're in this situation, if you remember."
"Actually, you are. You're the one who put an ad online."
"Look, it we're going to get into semantics, I can't argue with you, and that doesn't benefit me at all."
The Accidental Girlfriend is laugh out loud funny and a great beach read. Emma Hart entertains with humor, banter, crazy family, and a fake relationship that feels all too real. Ms. Hart created a great cast of characters in their family and friends that I would love to revisit. Fans of Kendall Ryan and Meghan Quinn will enjoy The Accidental Girlfriend.
Book Info:

Publication: Published June 25th 2019 | Amazon Digital Services LLC |
Top Tip: Don't put out an online ad offering your services as a fake date. Someone will take you up on it.
And it won't just be for one night.
And that, ladies and gentlemen, is how I ended up being Mason Jackson's fake girlfriend.
He didn't even want me to be. No—his sister was solely responsible for me being his date for his ten-year high school reunion.
Now, she's responsible for telling his parents our relationship is real.
We have no choice. We have to act like this isn't all a mistake, like it's not all fake, like we're totally, completely, utterly, head-over-heels in love with each other.
Simple, right?
Wrong.