The Arrangement by Bethany-Kris is an erotic romance where the inter-workings of the Russian and Italian mafias provide the backstory. Viviana Carducci and Anton Avdonin met for the first time when they were very young children. Years later, they were brought together again on the island of Barbados, when Viviana was 16 and Anton was 18. They fell in love instantly as their future was being sealed. Their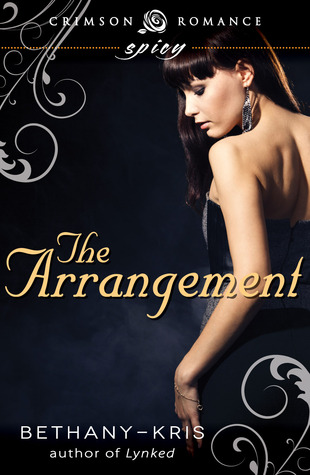 respective fathers arranged for their marriage to take place once Viviana reached the age of twenty-five. Unfortunately, when word got out about the potential joining of the two mafia organizations, Viviana's immediate family was killed and her uncle Sonny took over her father's territory. Luckily, Viviana's life was spared.
Now Anton is running things and knows through his sources that Viviana's time on earth will be coming to an end. Sonny sees her as a liability and wants her dead. Since Anton still loves Viviana and wants their arranged marriage to happen, he kidnaps her, only days before she would have been killed by her uncle's henchmen. Viviana has known for years that Anton was her soul-mate, so building a life with him as a Bratva wife is scary yet totally worth it.
Viviana and Anton have crazy chemistry. Their attraction and lust only adds to the feelings that have lain dormant for a long time. It doesn't take long for Viviana to get used to Anton, her new surroundings in Brooklyn and being a part of the Russian mafia. Viviana and Anton are happy and begin to plan their upcoming nuptials. However, Anton, his Dad and a few others are keeping some information from Viviana that may change her outlook on life and her future plans with Anton.
I found this slightly dark read to be quite engaging, with some twists and curves that kept me turning the pages until all the truths were uncovered. However, the story dragged from time to time and the reasoning behind some of the plot revelations were somewhat confusing. I found the different levels and roles within the organized crime organizations very interesting and I enjoyed how Anton's dog Rocco immediately preferred Viviana once they were introduced.
Overall, a heated romance with an interesting storyline.
Book Info:

Publication: March 17th 2014 by Crimson Romance
Nothing will stop the Bratva mob boss from taking back what's his, and once he has her, he'll do anything to keep her…
Viviana "Vine" Carducci's and Anton Avdonin's marriage was decided more than two decades ago. The deal between leading mafia families has more on the line than anyone knew, even if the Bratva and Cosa Nostra shouldn't mix. When Vine's family is murdered and she's left with nothing more than her grief to survive the mob world alone, she believes the arrangement won't see the light of day.
Anton can't allow the one woman he was supposed to love get away. At the possibility of her death, he steps in to save her with guns blazing, knowing exactly what it might cost him: everything. But it's been nearly a decade since their last meeting, and he can't help but wonder if the woman he took back is the same girl he fell for all those years before.
Protected and loved, Vine is unable to forget their shared moments a lifetime ago, or the future she knows they're owed. When an old flame of Anton's shows up to rip the veil off the carefully constructed secrets he'd been hiding, she learns that nothing about her life is as it seems. But, that's nothing compared to the bomb about to blow. Can Vine see beyond the pain and blood to take what she always wanted? And just how far will the mob prince go to keep her safe?
In a world where violence, deceit, and greed reign, your life is not your own, and sometimes, love has to be arranged.