The The Broken One by Ruth Cardello has two stories going on in one. The first chapter starts off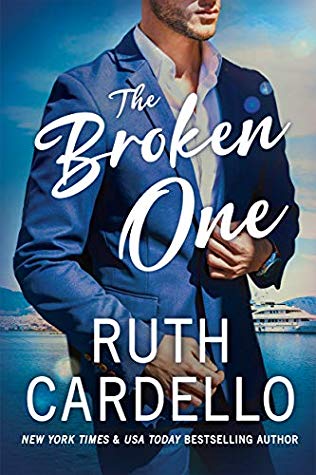 with nine-year-old Judy Corisi attempting to find out more about her father, Dominic's, extended family for a family tree project at school. She recruits her "aunt" Althea to help her. The story then switches over to Heather and Sebastian. Heather is a single mother of an adopted little girl name Ava. Sebastian Romano had lost his wife and unborn child five years earlier. He's riddled with guilt and pain, but when he finds a stuffed wolf at one of his properties, he's led to Heather and Ava. Will Heather and Ava be able to help him move on, and will Judy find what she's looking for?
I've only read one book in the Legacy Collection series, which is where the Corisi family is introduced, so I was a little confused as to how the Corisi and Romano families intersect. I have to wonder if it's something that may have been hinted at in other books in the Legacy Collection series. This is a side-story though, and there's only a few chapters devoted to it. Still, I loved Judy and her sneakiness, as well as the lengths she went to in order to try to find the truth. Just a warning this is not resolved in this book; I'm looking forward to seeing how it all plays out.
As for the main story between Heather and Sebastian, I felt the romance moved a little too quickly, but I still enjoyed it. Sebastian initially comes across as a Grade A jerk but, with Heather and Ava's, help, he finds himself softening. I liked how Heather didn't put of with Sebastian's attitude; she wasn't afraid stand up to him, while everyone else was scared of him. Ava is adorable and it's easy to see how Sebastian could fall for her, despite his attempts to stay aloof.
I really liked how Sebastian's brothers supported him while he comes to terms with the guilt he feels for moving on. They're a very close group, and I'm looking forward to reading their stories.
The Broken One is a good introduction to this new series. Readers who enjoy billionaires who are "broken" and find their way back with the help of love will enjoy this book.
Book Info:

Publication: October 1, 2019 | Montlake Romance | Corisi Billionaires #1
Single mom Heather Ellis would do anything for her adopted daughter, Ava. Even post an online reward for anyone who found the girl's lost stuffed animal. Who'd have guessed it'd be returned by a drop-dead-sexy man with such sadness in his eyes that she had to reach out to him? To Ava, he's a hero. To Heather, he's a fantasy that puts at risk the happy life she's made for herself.
It's been five years since billionaire developer Sebastian Romano lost his wife and unborn child in a tragic accident. Now he's all business. No room for emotion. Until he stumbles across that damn stuffed wolf and the beautiful single mother looking for it. Is he ready to give love a second chance?
But there's more to Sebastian, his family, and his past than Heather knows. More than even Sebastian knows. Will the life they're building together be challenged when the truth is finally revealed?