The Careless Boyfriend by Erika Kelly: Knox is on the verge of making her dreams come true. She's about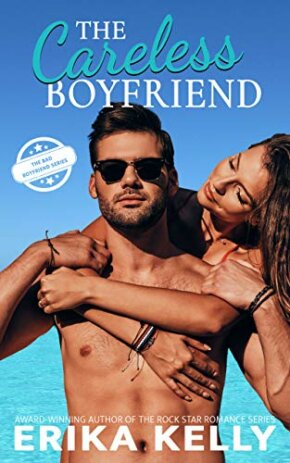 to have her very first bridal collection show at New York Fashion Week, until an accident wipes out her collection. She's used to adversity after having no stability and near constant bullying growing up. Knox is smart, creative, driven, and determined to prove everyone wrong. She's sassy, fierce, and independent.
Gray is an incredibly talented athlete and he's currently planning to make the next Olympics team. He has so many layers, but he doesn't really let people in to see that he's not the passionless and aimless Bowie brother. He's sexy, charming, confident, creative, and constantly traveling to the next competition.
Gray and Knox have a complicated history. They were best friends, but unbeknownst to Knox, Gray was hopelessly in love with her. Seven years later and Gray comes crashing back into her life and he realizes how little has changed. He wants her, needs her, and will move mountains to help her find a new path to the career she's put everything into. Knox struggles to adjust to having Gray in her life again and by just how much he helps her.
"Oh, this is good. Priceless information from a man who's had so many mature, romantic relationships."
"Just saying. You could be missing out on something good just because you're stuck in the past."
"Well, I don't know about the past, but in the present, I work a lot."
Everything seems to be happening at once, but Knox and Gray quickly fall back into their friendship and a new business partnership. Knox is seeing new sides to her best friend, but she's hesitant to trust Gray fully given how much is on his plate. Gray doesn't do relationships, but he shows Knox that he's all in for and with her. He seems too good to be true and then her ex returns to shake everything back up.
"It might've been the best kiss I've ever had."
He swallowed hard, making his Adam's apple jump. "But…?"
"But we can't cross that line."
"Right. Because…?"
"Because I like you. I like you better than anybody I've ever known."
The Careless Boyfriend is fun, engaging, and a whirlwind. Erika Kelly provided banter, heat, anticipation, surprises, conflict, and grand gestures. Ms. Kelly continues to build this world with a great cast of characters who are loyal, supportive, and always there for each other. Fans of Meghan Quinn, Stefanie London, and Laura Drewry will enjoy The Careless Boyfriend.
Book Info:

Publication: Published March 28th 2019 | Ek Publishing, LLC | Bad Boyfriend #3
Gray Bowie broke the bro code: he fell in love with his best friend's girlfriend.
For years, he hid his feelings…until one terrible night, it all came to a head.
Since her life blew up in high school, Knox Holliday has spent her time honing her skills as a couture wedding dress designer. But, just weeks before her debut, a freak accident wipes out her collection. The culprit: her ex's former best friend, Gray Bowie.
Gray does everything he can to get her career back on track. As they work together, they find forgiveness and start to stitch together something that looks a lot like love. But, at the very moment they realize they have a chance for something real, her ex comes back to town, bringing opportunities Gray can't provide.
This time, Gray's not going to step aside, so he can only hope Knox will hold onto his heart.
She's his dream, but will he be hers?