The Demon's Song by Kendra Leigh Castle: FINALLY! A book that I can say I really liked! It may not have been a perfect book but it was the best I've read in a little while!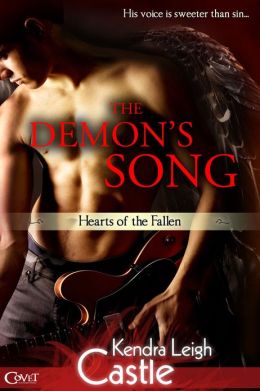 I really enjoyed the heroine in this book, Sofia. She's a nurse and a caring friend. She's headed to this club to try and find her friend/roommate, Sara, who has sort of been missing for a few days. I say "sort of" because she's heard from Sara but she sounds strange and hasn't really come home at all. Sofia finds Sara in the bathroom of this club with some dude going to town on her neck! Like eating her! Sofia handles herself against the bad guy but she also meets Phenex, who jumps in to save the day. So, you KNOW I love the fact that Sofia is no shrinking violet. Already, she gets points from me for going into this strange club to hunt down her friend. And then she's so brave in the face of what is obviously a vampire. I loved how she just sort of goes with it. Like, she's living her life and ok, now there are vampires, yeah ok, I got this, don't panic. LOL! It was so great!
Phenex is also pretty awesome. We eventually find out that he's a Fallen Angel. From what I can tell, it sounded like Phenex used to be the Angel of Song and then he got pissed at humans and Fell so he was in Hell. But then, he rescued an angel who was imprisoned in Hell so he was brought back to Earth and now he's somewhere in between Angel and Demon. But because he's still a little pissy, I think he identifies more with the demon side. Plus, demons can have more fun, right? Obviously, I loved Phenex. He's kind of broody but you can see this sweetness in him that just TOO adorable. He's also pretty awesome because he's a serious badass. He comes along with some really great and quirky characters, like his fellow Fallen Angels. Everyone kind of has a chip on their shoulder so they have these bad attitudes but the author somehow makes them fun and funny at times too.
I liked seeing Phenex and Sofia together but I do think that their relationship MAY have been a weak point of the book. I don't know that I ever felt how they connected. I could see that Sofia was falling for Phenex more and more but you don't get that from Phenex. But on the other hand, I think the author intended for it to be that way because I felt like Phenex didn't think he COULD love anyone or anything. He was kind of stuck on his past and how he fell? I'm not sure. But Phenex and Sofia were pretty hot together. There was not a ton of sexy time but what you get is good.
My only major complaint about this book was how often I felt confused. It sort of felt like I joined the series in the middle but The Demon's Song is book 1 of the Hearts of the Fallen series. I don't know a lot about this author so its possible that she has another series set in this world. It wasn't a huge big deal but I felt like I was playing catch up a little bit, here and there. Next, I'm still not clear on exactly how and why Phenex got out of Hell. I know that he pissed off the demon that was holding that angel captive but how that lead to him getting out, I don't know. Maybe it doesn't matter though. Last, I have no idea how this underground city, Terra Noctem, works. Humans can get in to the city and can get in to this club but they can't see it? And its a secret underground city? So how do people get in? They don't notice all the people with red eyes (vampires)? But NONE of this confusion really bothered me and didn't affect my enjoyment of the book.
Overall, I really liked this one. I would definitely recommend it to anyone who enjoys paranormal romance. It has a little bit for everyone: demons, angels, vampires, monsters. The romance is sweet but the sexy ti
Book Info:
Publisher: Entangled: Covet (April 23, 2013)
The road to Hell is paved with good intentions. At least, that's how it seems to Sofia Rivera when her attempt to help a friend ends in a blood-soaked confrontation with creatures that aren't even supposed to exist. With a group of rogue vampires determined not to leave a single witness to their violence hot on her heels, Sofia finds herself saddled with an immortal bodyguard—Phenex, the fallen Angel of Song.
While the vampire king roots out the corruption threatening to take down his underworld kingdom, Sofia will have to deal with a fallen angel whose dark beauty is often at odds with his ornery nature. Slowly, Sofia and Phenex give in to the strange attraction neither can deny. And as the darkness closes in around them, Phenex begins to wonder whether even the wickedest Fallen might find his own happyending…and his heart.