In The Forbidden Man by Karina Halle, Having worked as a sports therapist for some time now,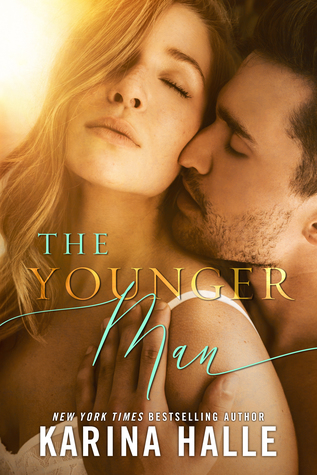 Thalia Blackwood is used to the egos, the drama, and the frequent scandals that come along with football (soccer) players. She never thought she'd have to watch her own marriage implode in the public eye, though. Trying to make a clean break, Thalia leaves her job with Manchester United, where her now ex-husband is the manager, and starts a job with Real Madrid. Keeping a low profile was her plan. But when she becomes taken with much younger footballer, Alejo Albarado, Thalia finds her career in jeopardy where their romance is against club rules. She'll have to decide if what they have is worth the risk to their jobs and their reputations.
He leans over and cups my face with his hands, gazing into my eyes. "I know the person you are, even if you don't. And I think she's amazing."
Alejo has enjoyed his years on the Real Madrid team and all the perks that come along with it. Sure it takes a lot of hard work and dedication to be at the top of his game all the time, but it's worth it to see the fans's reactions and to help propel his team forward. Meeting gorgeous therapist Thalia rattles Alejo a bit. He's never been so drawn to a woman–especially one who is off limits like she is. But that doesn't stop him from falling in love with Thalia or from taking chances that could end his football career as he knows it. And that's not something that Alejo takes lightly.
"My heart," he murmurs, "it beats for you, Thalia. Now and always. I love you. Te amo. And this love burns like the sun."
A sensual May-December romance with layer upon layer of emotions packed in, The Forbidden Man had intriguing characters and an intense plot, something that I adore in Karina Halle's work.
'The bigger the love, the greater the risk.
Our love is shaping up to be the biggest risk of all.'
Trigger Warning: View Spoiler »Cheating, suicide. « Hide Spoiler
Karina Halle doesn't shy away from taboo topics in her romances–and I applaud her for that. Because even if she does touch upon controversial issues, she does so in a realistic way that doesn't gloss over the negative aspects. Such as with Alejo and Thalia's romance, which you might have seen titled The Younger Man until it was recently changed to The Forbidden Man. (Which is a much better fit for the story) There were about sixteen years separating them–Thalia being the "older" woman in the scenario–but given their level of maturity and what they had been through in their lives, the age difference didn't bother me so much. To me, it was Thalia being Alejo's therapist, and how getting involved romantically was against the club's policy, that was the crux of the issue.
I fell pretty hard and very fast for both of our main characters. It was easy to get swept away with Alejo's charm and his passion for life. Especially considering the tough childhood he had, so to see him be so open and honest with Thalia was amazing. She was also incredible herself. Starting over in a whole new country after going through a messy divorce that played out in the media had to be difficult. But Thalia persevered. I really loved watching her bloom under Alejo's attention. And that's just what it felt like–she blossomed into the woman she was meant to be. It broke my heart that the perfect connection between them had to feel forbidden because they worked together, when anyone around them could see they were soul mates.
Note: As a special bonus, I won't spoil the surprise and say who, but we got to catch up with a beloved couple from another of Halle's books (a certain football player and his outspoken wife…). They were a big part of Thalia and Alejo's story, so it was loads of fun to spend time with them.
Halle doesn't disappoint in the least with her latest dramatic, passionate romance that will melt your heart. The twists and turns in The Forbidden Man were definitely well worth it to get to the hard-won HEA, so sweet that it had tears running down this reader's face.
Book Info:

Publication: Published December 11th 2019 | Publisher: Karina Halle |
Starting over was her only option.
Forty-years old and still reeling from a public and painful divorce, Thalia Blackwood is looking for a fresh start, somewhere far away from her upside down life. When she's offered a new job as the sports therapist for a football (soccer) team, she jumps at the chance. This is just what she needs to leave the heartbreak and shame of Manchester behind, trading it in for the warmth and hopeful vibrancy of Madrid.
He was her only desire.
Alejo Albarado is rising up the ranks in his career. As the charming forward for the Real Madrid team, Alejo's life revolves around women, parties, and being a tabloid darling, that is until the new sports therapist joins the team.
Their passion could not be ignored.
What starts out as a strictly professional relationship between Thalia and the young Spanish player, slowly evolves into something more. Much more.
Their relationship was forbidden.
But their combustible chemistry and simmering sexual tension can only go so far—should Thalia give into Alejo's advances, she's at risk of not only losing her job, but succumbing to a younger man will drag her through the spotlight again.
Alejo might be worth that risk.
Unless he breaks her heart in the process.
**This is a complete standalone book, previously titled The Younger Man. While this book is a standalone, characters from the book Love, in English do make an appearance.**