The Good Ones by Jenn McKinlay is the story of Maisy, who lost out on a job because a man deceived her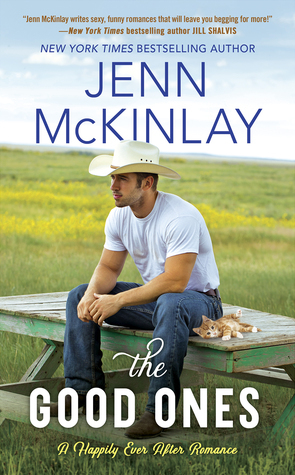 and stole it from her. Now she's at the home she inherited from her aunt, who had been a hoarder of romance novels. Determined to renovate the Victorian home into a romance book store, she hires home restorer Ryder Copeland. Ryder, a single father, has taken this one last job before he settles for a desk job in Charleston in order to pay for a private school he wants to send his daughter to. What he doesn't count on is falling for Maisy and her enthusiasm. When the end of restoration comes, will he be able to move on from Fairdale and say goodbye to both Maisy and his daughter?
Maisy is a resourceful woman. When she lost out on the job and notices the large amounts of books her aunt had, she takes it upon herself to open a book store, even though she has no experience running a business. Even when she has doubts, she never lets them hold her back. I also liked how she took the time to listen to Perry, Ryder's daughter. She even kept her confidence, when she knew it might anger Ryder if he found out who Perry was spending time with.
I liked Ryder. When Maisy told him what she wanted to do, he didn't blink an eye. Even when she insisted he add a turret to the house, he agrees. He goes as far as to take a romance book with him to read, so he could try to understand why Maisy and her aunt loved them so much. I did find him to be a little stubborn though. He arranges for Perry to go to a private school without even asking her what she wanted, and he refuses to give up on the plan to send her there even though it was clear she was becoming more miserable the closer the time came for her to go. He also has a hard time expressing his feelings, not even telling Perry that he loves her, although he shows her through his actions how much he actually does.
The Good Ones is a charming introduction to the people of Fairdale. The characters are entertaining and readers will root for them to find their own HEA. I'm looking forward to what's to come in this series, especially between Maisy's best friend, Savannah, and Ryder's best firend, Qunio, who butt heads in this book. It'll be interesting to see what happens between them.
If you're looking for a romance with a good blend of humor, steam, and drama, you should give this book a read.
Book Info:

Publication: February 5, 2019 | Berkley | Happily Ever After #1
Ryder Copeland is an accomplished architect and one heck of a father…not to mention tall and sexy. He's everything a hero should be, and Lord knows, Maisy Kelly has read enough of her great-aunt Eloise's romance novels to recognize one when she sees one. But like all fairy tales, Maisy can't help but wonder if this Prince Charming is too good to be true…
Ryder is drawn to the shy, curly haired professor who hires him to convert the Victorian house she's inherited from her aunt into a romance bookstore. Attracted to a woman for the first time since his divorce, Ryder finds himself wishing for a future with Maisy that he knows is impossible. Ryder has never wavered from his plan to leave the small town of Fairdale, North Carolina, so he can give his daughter the life she deserves. But suddenly he's not so sure. And the closer he gets to Maisy, the harder it's going to be to walk away.