In The Greek's Forbidden Princess (The Princess Seductions #2) by Annie West, not being able to handle the media attention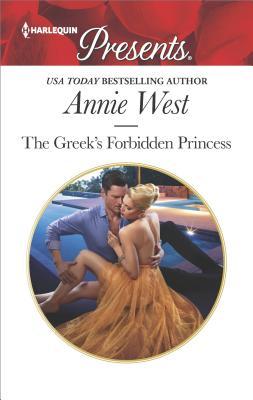 after the death of her brother and her sister-in-law, Princess Amelie runs to the only person capable of allowing her the privacy she needs to help her nephew recover, so he can accept the crown as next in line. However, it isn't easy for Lambis Evangelos to let them in, not when he's been through so much in his life already. Yet, the more time they spend together, the more Lambis realizes he can't let Amelie go. Will Lambis get his second chance at love, or will the fact that Amelie is royalty and he's a commoner keep them apart?
"Why bring him here? I'm not a psychologist or speech therapist."
Her face changed at his words. The grimness turning down her mouth at the corners eased, as if she sensed him weakening. "He's fascinated by you. You know how he followed you around every time you came to visit. He thinks the world of you."
What an absolutely fascinating, emotionally-deep read Ms. West has penned in this story that affected me a lot more than the first book of this series in terms of the emotional rollercoaster the main characters took me on, as they've lost people they loved. It has been hard for Lambis to get over losing his wife and even consider giving another woman a chance because he loved his wife so much. While Amelie has always felt a connection with the hero, but realizes that they'll never have a chance as he's too closed off, yet she knows she needs him to help her nephew through his grief. The way this story started had me sympathizing with the heroine, as it isn't easy to deal with the media at such a difficult time in her life. Will Amelie find a way to help her nephew? Will Lambis be just what she needs to get her nephew to open up, especially considering all that the young boy has been through?
As for the dialogue, it was entertaining from start to finish and was a perfect combination of intense and playful moments that had me really enjoying how Amelie and Sebastien (her nephew) help Lambis through his own tough time while the hero helps the heroine to come to terms with all they've lost and how their lives are going to change. Then there's the fact that it was hard not to want to cry for all that the main characters have been through, and certainly my heart ached for Amelie's nephew. How terrible to witness what he did?
Moreover, the main characters had me hooked due to Amelie's strength when it comes to putting aside her own grief to help and protect Sebastien. He's the only family she has left and she'll do anything for him, which is proven by the way she's been the one constant in his life; someone the young boy has always been able to rely on for anything. I also liked that she gave Lambis a chance, even though she knew things could blow up in her face. Would Lambis ever be able to give happy ever after another chance? While the hero, he's been through so much and it's understandable why he isolates himself from people he cares about, because of the guilt and regret he carries from not being able to help the woman he loved. I also liked how the heroine helps him to realize that the past wasn't his fault. Can he forgive himself, so he has a chance with the heroine?
"I think I loved you from the first day we met," he said in that low, mesmerizing voice. "You were beautiful and kind and so utterly unaware of how entrancing you were."
Amelie shook her head. "You scowled at me."
"I was a grouch. I was mired in guilt and regret and right from the start you made me feel things I didn't deserve to feel."
Overall, Ms. West has penned another really enjoyable read for this series where the chemistry between this couple was strong and had me liking how much opposites attract; and the ending was endearing because Lambis was determined to fight for his future with Amelie. His words are precious and definitely illustrate how ready he is to take a chance on forever after again. However, it was the epilogue that wrapped this story up beautifully, because of the special bond between Sebastien and Lambis. I would recommend The Greek's Forbidden Princess by Annie West, if you enjoy the opposites attract trope or books by authors Louise Fuller, Abby Green, Maya Blake and Sharon Kendrick.
Book Info:

Publication: October 17th, 2017 | Harlequin Presents | The Princess Seductions #2
Illicit nights with the billionaire…
News of a tragic accident plunges Princess Amelie's life into turmoil. To escape the swarming press, she takes her newly orphaned nephew and runs, seeking the protection of one man. Lambis Evangelos desires Amelie beyond all reckoning, but refuses to taint her radiant beauty with the guilt of his past. For years he's resisted his longing for her luscious body–until Amelie's arrival at his doorstep draws him too close to her forbidden temptation… His secluded Greek island is a refuge from the world. There, Amelie and Lambis have no choice–they must yield to their fiery, uncontrollable passion.