The (Half) Truth by Leddy Harper: Tatum is great when it comes to cooking. She's delightfully quirky,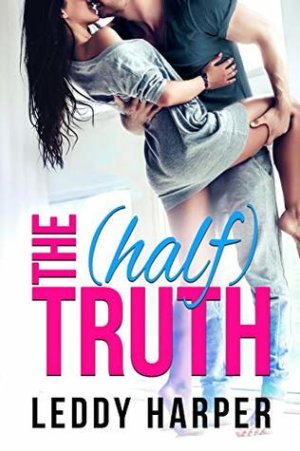 awkward, nervous, and has the terrible habit of talking without thinking. She's working her way up to being a sous chef at a popular restaurant, except it's the restaurant owned by her idiot of an ex-fiancé. Tatum was blindsided when he dumped her and it hasn't helped that she didn't quit or that he hired his new girlfriend.
Jason is smart, charming, and close to his family. He's recently moved back home after a bad breakup and he's not in a place for a relationship. He has a strict policy of never giving anyone a second chance yet he's trying to overcome his player reputation from his high school and college days.
Jason is immediately intrigued by the sexy yet awkward Tatum. He's drawn to her and definitely wants to get to know her, and that feeling is entirely mutual. Both experience the immediate attraction, in spite of his cousin Kelsey's warning for both to keep their distance. Kelsey and Tatum are BFFs and Tatum is a frequent guest at all family gatherings.
"Kelsey's going to pay dearly for this." I took a moment to soak in the humor tugging at her lips. "Now that we have that out of the way…care to share with me what happened tonight?"
"You mean the thing we both agreed we'd never discuss?"
"Yup. That."
Keeping their distance was never really realistic. Tatum is too close to his family and she ends up lying to her nosy coworkers that Jason is her new boyfriend in an attempt to escape their pity. But she quickly finds that one little lie quickly snowballs out of her control and so does their chemistry. Jason seems to understand and be amused by her idiosyncrasies and they bond over their respective heartbreaks. It's only a matter of time until everything changes in their fling and the full truth finally comes out.
"It it's bad, does that mean I get a redo? I think it should. If dinner sucks-and-or is poisonous-then you have to come over another night and teach me something else to make."
"That wasn't the original agreement," she teased, losing the battle against her grin. "I said one night. There were no contingencies in place for unforeseen errors or death."
The (Half) Truth is fun, entertaining, and sexy. Leddy Harper created a good mix of humor, heart, heat, family, and conflict. Ms. Harper developed great characters in their family, friends, and co-workers. Fans of Penelope Ward and Vi Keeland will enjoy The (Half) Truth.
Book Info:

Publication: February 19th 2019 | Montlake Romance |
From bestselling author Leddy Harper comes a sizzling romance about an aspiring young chef who may discover that the perfect recipe for love involves all accidental ingredients…
Tatum Alexander is so close to realizing her dream of becoming a sous chef she can taste it, but working at her ex-fiancé's restaurant with his new girlfriend was never in her career plan. To save face and prove she's moved on, Tatum cooks up a lie that she's in a relationship with her best friend's superhot cousin. There's just one problem: Jason only recently moved to town, and he has no idea they're already "dating."
Jason's a recovering ladies' man who shouldn't be on the menu, but that doesn't mean he's immune to Tatum's quirky charm. Giving her lie a kernel of truth, they decide some no-strings-attached fun between the sheets can't hurt. But as Tatum's forced to keep making up stories to cover her original fib, she has a hard time separating what's real and what's fake—including her feelings for Jason.
With too many tales spun, Tatum can only watch in horror as her collection of yarns begins to unravel, leaving everyone she cares about feeling betrayed. After so many lies, will it be too late to set the record straight? And more importantly, will she be able to convince Jason there's truth in their love?