The Highland Fling by Meghan Quinn: Bonnie St. James seems to have lost her way, not only has she been fired for the third time in a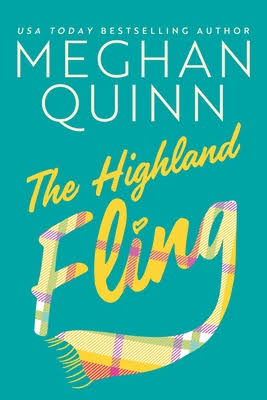 row but she just seems to lost her zing, which is why when her bestie stumbles upon a help wanted ad for a little coffee shop in Scotland the two think why not give it a go. After all who wouldn't want to get a chance to reset in the beautiful lush Scottish Highlands? The last thing Bonnie was expecting was to land up in a place where people talk funny, thrust their hips and drive on the wrong side of the road!
At least everyone in town is thrilled to have some fresh American blood in the mix all except for Kilty McGrumpyshire, Rowan MacGregor. You could say that it was hate at first sight for these two complete opposites, however with each unavailable meeting these two just can't seem to get enough of the steamy banter or saucy looks. The last thing Rowan needs is to have some spitfire American steamrolling into his little town and turn his entire life inside out, but try as he might there is no stopping Bonnie from worming her way into Roman's guarded heart. The question is will Kilty McGrumpyshire finally realise that Bonnie is just the bonny lass that his heart has been longing for?
"Oh no . . . this isn't good at all. It's happening. I think I'm crushing on Kilty McGrumpyshire."
Pure perfection! That is exactly what Quinn has once again delivered, The Highland Fling is everything and more that any romance fan could ever dream off! This opposites attract/ enemies to lovers romcom was laugh after laugh, right from Bonnie and her best friend Dakota's hilarious arrival in Scotland, pelvic thrusts and everything. This was just the type of book that you want to gobble up in one sitting but so desperately don't want to end, oh the dilemma! My only warning is keep some cake on hand while reading because you will most definitely be craving a slice or two within the first few chapters!
"Definitely not interested in your box . . . cake."
"Did you hear that?" Bonnie asks Dakota, pointing at me again. "He was referencing my vagina."
"Good God, Bonnie, he wasn't!"
Bonnie was just a delight, I absolutely loved that she went full force with anything and everything that she gets into her mind! Gosh did she have me in stitches with all her zany antics; trying to hook up Dakota and Isla while third wheeling, making friends with Fergus the screaming town goat and most delectable of all sparring with Rowan. The chemistry between Bonnie and Rowan was hot, hot, hot! By far one of my favorite couples to date! I loved the way these two tried to deny their feeling but only end up falling even harder.
"I think I might have met my match—and she's wrapped up in a tiny, feisty, all-American package."
Kilty McGrumpyshire, oh how you have stolen my heart! I am a huge fan of the grump/sunshine trope and this was Rowan and Bonnie down to the tee! There is just something so appealing about a grumpy hero who is actually a big ole softie that is always a win in my books and that was our Rowan. But gosh did my heart break for the guy, having to hold the weight of his family on his shoulders and his past regrets, really didn't do him much good in opening up to relationships. Which is exactly what made Bonnie the perfect lass for him, pushing past his boundaries and opening him up to a whole new world.
"That smile lowers my defenses in seconds. It's sweet and loaded with promises of friendship and good times. Hell . . ."
I have to mention the relationship between Bonnie and Dakota, these two have that once in a lifetime kind of friendship, a bond that can't be broken easily. I love that they both leaned on each other at the beginning of the book but grew to be stronger individuals as the book progressed. As for the rest of the rest of the towns people, they were just the cutest! I loved that they welcomed both Bonnie and Dakota into their cute little town.
"Fergus is still showing up unannounced. Last time, he screamed so loud that I piddled. A goat made me piddle. But then I petted him, and now I think we're starting to build a strong bond. This is my life now."
One of the things that I love about Quinn's books is that she always has quirky animal characters interwoven into the story and this book had two of the cutest fur characters to date! I loved Fergus the hero goat and that he would just randomly show up in the coffee shop. Then we had the cutest furry coos! Do yourself a favor a good a furry coo, they have to be the cutest things I have ever seen! Also the entire Boaby Stone, now that was just hilarious, who would have thought a stone would get such hype!
The Highland Fling is an absolute must read, this grump/sunshine, enemies to lovers romcom checks every single box needed to make a perfect romance novel! This book has the perfect combination of swoony goodness and heart warming friendship all mixed in with some quirky furry sidekicks. This is not to be missed!
Book Info:

Publication: August 24th 2021 | Montlake |
Freshly fired from her third job in a row, Bonnie St. James has lost her way. So when she and her best friend stumble upon a "help wanted" post to run a coffee shop in the Scottish Highlands, they apply on a whim. Who knows? Maybe traveling to a new place is just what she needs to figure out her next move.
When the friends arrive in the tiny idyllic town of Corsekelly, they instantly fall for the gorgeous Highland landscape and friendly townspeople. But Bonnie finds a less-than-warm welcome in Rowan MacGregor, the rugged local handyman. Busy wrestling his own demons, Rowan's in no mood to deal with the quirky American—even if she is a bonny lass.
As Bonnie and Rowan's paths inevitably cross, insults—and sparks—fly. Can the pair build on their similarities to help each other find purpose and direction…and maybe romance too? Or will their passionate tempers fling them apart?