In The Highlander Who Protected Me (Clan Kendrick #1) by Vanessa Kelly, from the moment Royal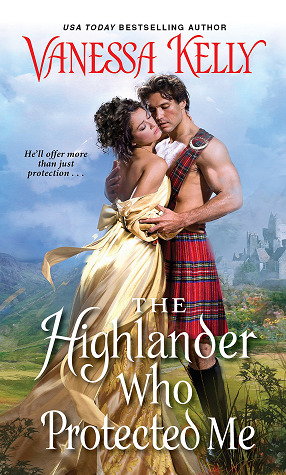 Kendrick met Lady Ainsley Matthews, he's been intrigued and would do anything for her. So, when she comes to him and proposes marriage, he agrees, especially after the favor he did her that no one can know about. However, when Ainsley's former fiancé begins to cause trouble for her and threatens everything she holds near and dear, will she and Royal come out on top or will they lose their chance at happy ever after?
"I didn't ask you to love and protect Tira because it was convenient for me. I did it because it was the only thing in my life that made sense."
"You honoured me in doing so. But you must be sure about marriage, Ainsley. Once you make this decision, there is no going back."
"I've done little else these last five months but think about you and Tira, and how much I want to be with you. Both of you," she emphasized. "Truly, I'd swear an oath to that effect if it would help. Surely there must be some demented ceremony where we would cut our blood, and then twirl around half-naked in the moonlight."
Having been introduced to the Kendrick family in The Highlander's Princess Bride, book three of Ms. Kelly's Improper Princesses series, I was hoping for the Kendrick siblings to get their own happy ever afters and I'm so glad Ms. Kelly launches this new series with Royal Kendrick. Since he's a hero that's been through hard times having barely survived the war and is a man of honor determined to do anything to help Ainsley because she means so much to him.
The way this story started with the prologue sets the fast-pace of the story and makes this story a total page turner, as there's plenty of chemistry between Royal and Ainsley that had me wanting to desperately know whether they'd get their shot at happy ever after. Will Ainsley give Royal a chance? However, it was from the moment the hero and heroine come face-to-face for the first time where this story really takes off, as the hero loves to tease the heroine and vice versa because she's from an upstanding family and English while he's Scottish, which makes Ainsley believe he doesn't know the first thing about decorum. Will Royal prove her wrong?
"My leg is fine."
"Splendid, but I'm worried you're about to start spouting lines from Romeo and Juliet. Or Hamlet, which would be even worse."
He snorted. "Please. Macbeth or nothing, in this household."
"With me playing all three witches, no doubt."
"You and Angus could trade off."
As for the dialogue, it was highly entertaining due to how Royal loves to tease Ainsley and flirt with her, especially in the moments where she needs cheering up, considering the dark time she's gone through. How could her parents be so horrible? Moreover, the heroine is strong, brave and I liked how determined she was to win Royal over because she needs him. Really, he's the only man that makes the heroine feel safe, especially when it comes to what she is facing because her ex-fiance isn't a man that gives up on what he wants and what he wants is Ainsley. Will Royal and Ainsley find a way to fight back, considering all they have to lose if they can't find a way to get her ex-fiance to leave her alone for good? While the hero, he's been through so much and I couldn't help but sympathize with his situation since the war certainly left him with struggles. I also liked the close relationship the hero has with his family and how willing they are to go help the heroine because it's palpable she needs their help. Yet, what I liked most of all about the hero was how protective he is of Ainsley and how determined he is to help her because it's not easy going up against such an important and powerful man like her ex.
Overall, Ms. Kelly has launched a brilliant start to this series where the chemistry between this couple was tangible and off-the-charts from the moment they come face-to-face for the first time; the romance was wonderful and had me loving these two together since they have such a good friendship in the beginning that grows into love; and the ending had me worried for the main characters when it came to their happy ever after, but had me liking how things work out for the best for this pair, as no one is more deserving of happy ever after than these two. However, it was the final chapter that has me looking forward to more of this series because of what Royal and Ainsley must do to protect each other and his family. Will Royal's family be able to help him and Ainsley find their way back? I would recommend The Highlander Who Protected Me by Vanessa Kelly, if you enjoy Historical romance; the friends to lovers trope, the opposites attract trope or books by authors Darcy Burke, Anna Campbell, Christi Caldwell and Cathy Maxwell.
Book Info:

Publication: October 30th, 2018 | Zebra | Clan Kendrick #1
Lady Ainsley Matthews, heiress and darling of the ton, was expected to make a magnificent match. Instead she's hiding on a remote Scottish estate, terrified that her vicious former fiancé will use her pregnancy to force her into marriage. One man can help her—Royal Kendrick, son of a distinguished Highland clan. Though a mistake drove them apart long ago, Royal is the only person Ainsley trusts to protect her baby—even if that means agreeing to never see either of them again.
Scarred in body and soul by war, Royal suddenly has a purpose—caring for an innocent babe and thereby helping the woman he can't stop loving. But when Ainsley ultimately returns to Scotland, determined to be a real mother to her child in spite of the risk, there's only one solution: marriage. And only one likely outcome: surrendering to the desire that's simmered between them for so long, no matter how dangerous it may be.