The Introvert's Guide to Online Dating by Emma Hart: Relationships are generally complicated but hooking up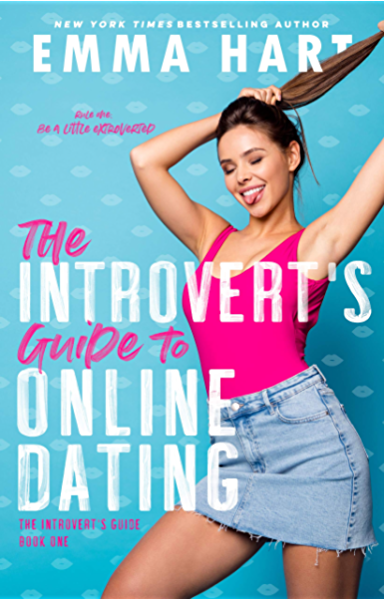 with your best friends brother in secret tends to make things even more complicated. However Tori and Colton have been pulling of their secret dirty little no strings hookup without any of their friends catching on for the last six months. But with all of her friends coupling up and getting ready to settle down Tori decides if she is serious about settling down herself she has to give Colton the boot and really knuckle down with this dating thing, and what better place to start her search than with online dating? However giving up Colton is proving to be harder than Tori was expecting especially since he has long since stolen her heart.
"At least I have a date ,What do you have? Your right hand?"
"My left one if I'm feeling fancy." Colton smirked.
Now that his sister has found her forever love she is determined to help Colton find a girlfriend, if only she knew that he already has his heart set on Tori. It would also help if he actually told Tori how he feels instead of having this back and forth pretending that seeing other people is totally fine. But when Tori finally calls quits on their arrangement will Colton finally buck up and tell her how he feels before she finds someone else?
"Kissing him still felt like Christmas morning— magic and excitement and a pure adrenaline rush."
Emma Hart is a go to author for me, there is not a book of hers that I have not loved. I have to say that I love that the Bookworms series and the Introverts series are so interlinked and we get to see all of our favorite characters again!
Tori and Colton were just hilarious, I loved the constant banter between these two characters. It is amazing that they managed to hide their relationship for so long with their chemistry being so sparky. I love that Tori doesn't let anything bother her that is until Colton came along. Also how cute is her cat? Colton was such a great character, I loved that he played of Tori so well, giving just as good as he got. I also liked that he wasn't scared to admit his feelings about her, well to everyone except her that is!
"I think I want chickens."
I almost spat my drink over my dinner. "I'm sorry, what?"
Colton looked at my plate then at me. "Is it that crazy?"
"Yes. There are twenty at the senior home. Go there instead. If you get chickens, then so help me, I will bring my cat around to sort them out."
"That's cruel . Gen wouldn't hurt my chickens."
"You're right, she wouldn't, but I would. Why do you want chickens? What's wrong with you?"
I really liked that both Colton and Tori were so involved with their grandparents and end up meeting there so often. Oh gosh the oldies were at it again in this novel, with their weird chicken names and very inappropriate art classes, they once again had me laughing out aloud!
The Introverts Guide To Online Dating is a laugh out loud read from start to end, this us definitely a series I would recommend adding to your TBR!
Book Info:

Publication: April 27, 2021 | Emma Hart | The Introvert's Guide #1
With all my best friends off the market, it's time that I, Tori Sussex, join them. So where better to find my future husband than the internet? It's great. I get to get all the awkward stuff out of the way and already know if I'm going to like the guy before we meet in person.
It's a shame nothing's ever that simple.
My relationship with Colton Lane, my best friend's brother, is the very definition of complicated – dirty little no-strings-attached hook-ups we've somehow managed to keep secret from all our friends for the past six months. We're bound to get caught, and if I'm serious about dating, I only have one choice: call it quits; end our little covert booty calls for good; tell him my parking space is off-limits to him.
It should be easy. It should be simple. And I'm sure it would be…if only I wasn't in love with him.