For the past few weeks, I've been seeing reviews for The Last Hour of Gann by R. Lee Smith pop up all over the blogosphere, most reviews I read described the book as "EPIC". So clearly I was intrigued but when I read the blurb and realized it was a SiFi had Rape and came with a warning (This book contains graphic violence, strong sexual content and explicit language. It is intended for mature readers only). I quickly decided this wasn't the book for me.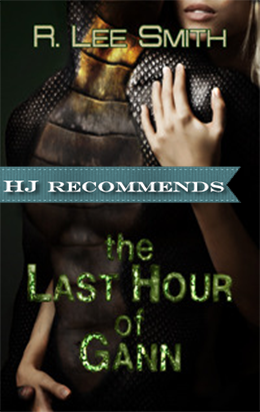 Then Last week I happened to see a tweet from Dear Author mentioning that The Lizard Man book was DA's Nov book club read. Jane and I got tweeting and I mentioned how this wasn't a book I could see myself reading. All it took were two golden words from Jane "Tremendous Romance" and I found myself clicking the buy button on Amazon.
I don't read SiFi so I don't have anything to compare this book to and I am not sure I can do this book justice to begin with but here are my thoughts:
Amber Bierce and her sister are aboard a spaceship to an earth like planet when their ship is hit by an asteroid and crashes, of the original 50,000 only a few survive. 
Uyane Meoraq is a Sword of Sheul, God's own instrument of judgment. When Meoraq, sees fires of the wreckage light up the sky he believes it to be a sign from god and embarks on a pilgrimage to a temple of Gann on his way there he comes across a group of 'aliens'.
The Last Hour of Gann is long, 3 books long at nearly 1000 pages, It starts out slow, so if you decide to read this book I say hang on and hang on tight for once Amber and Meoraq meet the story begins its epic journey, one that is definitely worthy of  a read.
Meoraq the hero is a lizard man and Amber the heroine is human, they speak different languages, have totally different beliefs and find the other ugly! Moeraq believes everything is God's will and this belief totally drives Amber up the wall which made for some entertaining banter throughout the book.
"All things happen in Sheul's time."
"Bullshit. Lizard-shit."
She shot him a fierce, humiliated sort of stare and as quickly looked away.
"Why don't you ever just come out and say what you mean?"
"Great Sheul, O my Father, give me patience. What do I mean?"
"You think I'm weak!" Of all the things she could have said, this was the one he was least prepared to hear.
"In what sense?" he asked guardedly.
"In the sense that you think I'm weak!" she yelled back at him.
"There aren't a whole lot of different ways to say that, lizardman! You think I'm weak!"
I'll be honest I was a bit squeamish about how the Sexy moments in the book would unfold between Meoraq and Amber…Seeing how they didn't find the other attractive and he was a Lizard for goodness sake!!
"Extremely. What does human mean?"
"Eh?"
"Don't play dumb. Human. You say it weird. Like yooo-mont. What is it?"
"It refers to a kind of beetle."
"A good kind?"
"Not… particularly."
But as I read on I totally fell in love with Meoraq, considering I have a phobia to lizards that's saying a lot. Amber and Moeraq were perfect for each other, their romance was a slow burn and by the time they got together and fell in love I was emotionally vested. I so badly wanted things to work out for them so that they could have their HEA!
"And I hate you," she whispered.
"Lies."
"What can I say?" Amber asked at last, her voice raw and shaking. "What can I say to make you leave me?"
"Try insulting my father," he suggested.
"Stop making fun of me! I can't do this, Meoraq! I can't spend the rest of my life being your God-given burden!"
"Your trials are mine, Soft-Skin. As you learn from them, so do I."
"Bullshit."
"Truth."
"What are you learning right this second?" she demanded. "Patience." He glanced upwards. "I learn that a lot when I'm with you."
The Last Hour of Gann is about survival, faith, perseverance, destiny and last but not the least true LOVE.
"This day will end," he said, softly. "You and I will go on."
Does EPIC best describe The Last Hour of Gann? ABSOLUTELY!
It is an Epic love story, with epic characters, in an epic world. One that will stay with me for a long, long time.
About the book

HJ Recommends
Publisher: A Red Hot Romance Erotic Novel (September 12, 2013)
It was her last chance:
Amber Bierce had nothing left except her sister and two tickets on Earth's first colony-ship. She entered her Sleeper with a five-year contract and the promise of a better life, but awakened in wreckage on an unknown world. For the survivors, there is no rescue, no way home and no hope until they are found by Meoraq—a holy warrior more deadly than any hungering beast on this hostile new world…but whose eyes show a different sort of hunger when he looks at her.
It was his last year of freedom:
Uyane Meoraq is a Sword of Sheul, God's own instrument of judgment, victor of hundreds of trials, with a conqueror's rights over all men. Or at least he was until his father's death. Now, without divine intervention, he will be forced to assume stewardship over House Uyane and lose the life he has always known. At the legendary temple of Xi'Matezh, Meoraq hopes to find the deliverance he seeks, but the humans he encounters on his pilgrimage may prove too great a test even for him…especially the one called Amber, behind whose monstrous appearance burns a woman's heart unlike any he has ever known.
From R. Lee Smith, author of Heat and Cottonwood, comes an epic new story of desire, darkness and the dawn that comes after The Last Hour of Gann.
WARNING: This book contains graphic violence, strong sexual content and explicit language. It is intended for mature readers only.